Media Inquiries
Latest Stories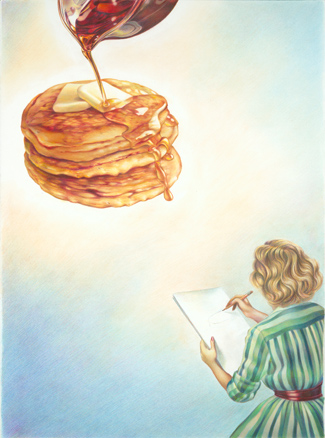 The Curb Center for Art, Enterprise and Public Policy will present a group exhibition featuring works by Vanderbilt University Department of Art faculty and staff.
"On the Edges: Works from Vanderbilt Department of Art Faculty and Staff" opens Tuesday, Sept. 30, with an opening reception planned from 5 to 7:30 p.m.
The exhibition represents only the second time the faculty of Vanderbilt's art department have come together for a group show and the first time to include both faculty and staff. Twelve artists are featured: Michael Aurbach, Farrar Hood Cusamato, Susan DeMay, Jana Harper and collaborator Gina Alvarez, Mark Hosford, Jeremy Jones, Marilyn Murphy, Vesna Pavlović, Jerry Phillips, Jonathan Rattner and collaborator Kalmia Strong, John Warren, and Mel Ziegler. The works range from drawing, painting, printmaking and clay to video art and experimental photography. Some pieces are well-received works being introduced to new audiences here on the Vanderbilt campus, while other pieces are being shown publicly for the first time.
Geographically, both the Curb Center and the Department of Art are located "on the edges" of Vanderbilt's undergraduate campus. Functionally, this allows both groups to embrace their roles as members of multiple communities who can observe, participate and capture moments, ideas and stories among and beyond the artificially imposed "edges" of cultures, campus and community.
The nationally and internationally recognized teaching artists of Vanderbilt's Department of Art offer a wide range of methods and perspectives. As an organization dedicated to research and teaching that challenges leaders to rethink the place of art and creativity in our world, the Curb Center values its positioning on the border between Vanderbilt and Music Row, one of the gateways to Nashville's vibrant art, music and performance culture.
"Artists have always been working on the 'edges,' whether literally or metaphorically," noted Ziegler, chair of the art department. "[lquote]But we need to think about how to close the gaps between the edges, to be part of—not apart from.[/lquote] It is logical for our two groups to collaborate in this way to advance our shared sense of mission regarding creativity both on campus and in our communities."
"On the Edges" runs through May 31, 2015. Artists will be present at the opening reception on Sept. 30. The Curb Center for Art, Enterprise and Public Policy is open Monday–Friday, from 8:30 a.m. to 4:30 p.m., and by appointment.
For more information, contact Heather Rippetoe at (615) 936-7981 or heather.l.rippetoe@vanderbilt.edu.