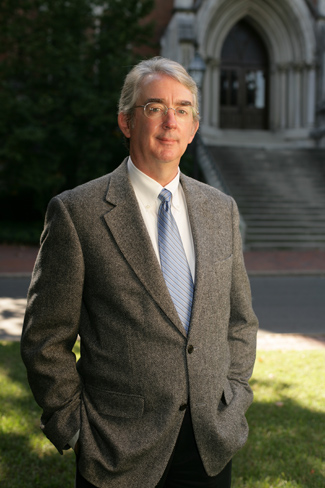 Dennis G. Hall, professor of physics and of electrical engineering, will step down as vice provost for research and dean of the Graduate School Dec. 31, 2014. He plans to return to a focus on research and writing, starting with a leave that will begin on Jan. 1, 2015.
"Dennis' impact on our university cannot be overstated," Chancellor Nicholas S. Zeppos said. "His steady leadership and clear vision have guided the transformation we have undertaken over the past 14 years both in graduate education and in our research enterprise. [rquote]Dennis helped lay the foundation on which we now stand and will continue to build, and I am deeply grateful for his service."[/rquote]
During Hall's time at Vanderbilt, Graduate School applications increased from 2,709 in 2001 to 7,080 in 2014; the number of Ph.D.s awarded each year increased from 168 to 295; the annual percentage of Ph.D.s earned by under-represented minority students nearly doubled, from 7.6 percent to 14.1 percent; and external funding for research tripled, from $217.6 million to $655 million.
Hall is quick to acknowledge that this great success came about because so many faculty and staff worked together to make it happen. "That we did so even as the federal government intensified its regulatory oversight of universities makes our journey all the more remarkable," he observed. "We have risen up significantly over the past 12 to 14 years, and that is directly linked to the quality of our academic programs and of our research programs. Graduate education is well aligned with the university's strategic goals. Strong academic and research programs build strong graduate programs and attract the best graduate students."
Hall attributes Vanderbilt's upward trajectory in graduate education and research in part to its deliberate investment in trans-institutional collaboration and research. He helped launched the submission and approval process that led to the 11 trans-institutional centers funded by the first Academic Venture Capital Fund initiative and, with colleagues, guided the many procedural and academic changes needed to enable collaboration across colleges and schools.
"We had processes in place that worked well for each school, but we faced many issues, opportunities and problems when we started crossing those boundaries," he said. "The deans, the faculty, the department chairs—everybody was on board. Investments were made, procedures were tuned up—we essentially had to remake the university. I am proud to have been part of it."
Vice Chancellor for Academic Affairs and Provost Susan Wente has appointed John Geer, vice provost for academic and strategic affairs, as interim dean of the Graduate School beginning Jan. 1, 2015. Transition planning for a leader of Hall's roles in the vice provost for research domain is underway.
Hall first informed then-Provost Richard McCarty in February 2014 of his desire to step down, agreeing to remain in place through 2014 to assist with the new provost's transition once the search concluded.
"Dennis has been a tremendous colleague, both during my time as associate vice chancellor for research at the medical center and since I have become provost," Wente said. "I rely on his experience and perspective on the challenges and opportunities we face in graduate education both at Vanderbilt and as a nation. He is an extremely effective public advocate for both education and for science and their intrinsic value to our society. I am grateful for his service and look forward to his continued contributions."
In addition to his roles as vice provost and dean, including operating several internal grant programs, Hall oversees Vanderbilt University Press; oversaw the university library for eight years; has served on the three-member Provost's Budget Allocation Committee; and serves as the permanent member of the University Central Promotion and Tenure Review Committee, a position he has held since 2000. He has served as Vanderbilt's representative on the UT-Battelle Board of Governors, which oversees management of the Oak Ridge National Laboratory, since Vanderbilt first became a member in 2004. He represents Vanderbilt on two of the Association of American Universities constituent groups: Senior Research Officers and the Association of Graduate Schools, created by the graduate deans of the AAU.
Hall came to Vanderbilt July 1, 2000, as associate provost for research, a role that evolved over time. He was promoted to associate provost for research and graduate education and formally named dean of the Graduate School in 2008. His title was changed to vice provost for research and dean of the Graduate School on July 1, 2009.
Prior to July 1, 2000, Hall was William F. May Professor and director of the Institute of Optics at the University of Rochester. He joined the Rochester faculty in 1980 and was the recipient of two undergraduate teaching awards during his tenure there. He is a fellow of the Optical Society of America, the American Physical Society, the American Association for the Advancement of Science, and the International Society of Optical Engineering. He is the author of some 125 refereed journal articles, three patents and several book chapters, and is the editor of the 1993 reprint volume Coupled-Mode Theory in Guided-Wave Optics. He has supervised to completion 21 Ph.D. dissertations and six M.S. theses.
Hall received his bachelor of science in physics from the University of Illinois, Urbana-Champaign and his Ph.D. in physics from the University of Tennessee, Knoxville. He completed his dissertation research in theoretical solid-state physics at the Oak Ridge National laboratory.
Hall and Rita, his wife of 44 years, have three children and four grandchildren.