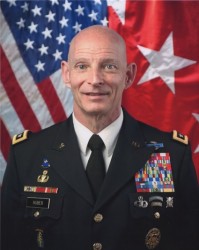 Retired U.S. Army Lieutenant General Keith Huber, who exercised oversight and control of U.S. detention operations in Afghanistan, will be the keynote speaker for Vanderbilt Naval ROTC's sixth annual National Security Symposium Friday, Oct. 10.
The symposium, held during the university's Homecoming/Reunion, is designed to be an opportunity for the many returning alumni and visitors to campus that weekend to learn more about national security efforts. The symposium is among many events offered during Homecoming/Reunion.
Huber's talk, "What's next for Afghanistan…and Regional Implications," begins at 4 p.m. in Sarratt Cinema. The event is free and open to the public. Because of limited seating, an RSVP is requested. Parking is available at Vanderbilt's Terrace Place Garage with shuttles to Sarratt Cinema. The event also will be streamed live on Vanderbilt Naval ROTC's symposium website.
As commanding general of Combined Joint Interagency Task Force 435, Huber and his team, with policy guidance from the U.S. Embassy, worked in cooperation with Afghan, interagency, coalition and international partners to enable the conditions-based transition of U.S. detention operations to Afghan control, as well as advance the development of 'rule of law' in Afghanistan.
A native of Springfield, Ohio, Huber's 38 years of commissioned service in the U.S. Army have spanned numerous conventional, unconventional and combined joint duty assignments, including the 7th Infantry Division; the 101st Airborne Division (Air Assault); the 10th Mountain Division; Deputy Commanding General of 1st Army; Commanding General of US Army South; 7th Special Forces Group (Airborne) in Panama, and Special Forces Field Advisor tours in Nicaragua and El Salvador.
His combined joint duty assignments include U.N. Mission Haiti; commander, Joint Task Force Bravo in Honduras; U.S. Southern Command; Multinational Brigade (East) in Kosovo; chairman of the Inter-American Defense Board, and director of the Inter-American Defense College in Washington, D.C.
Huber graduated from the U.S. Military Academy in 1975 and was commissioned in the infantry. He is a graduate of the Infantry Officer Basic Course, the Armor Officer Advanced Course, the Army Command and General Staff College, the Armed Forces Staff College and the Army War College. He received a master of public administration degree from Golden State University in 1984.