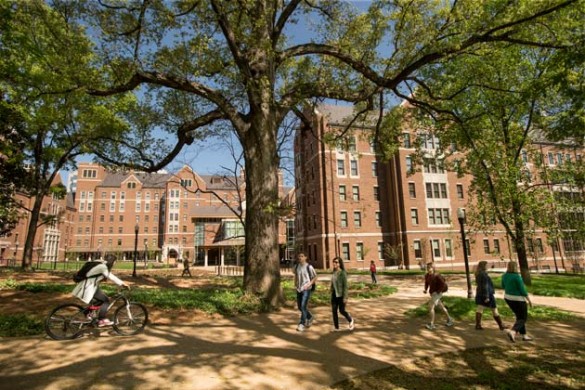 The new Warren and Moore Colleges, which include the Kissam Center, has received a LEED Gold certification from the U.S. Green Building Council. LEED—Leadership in Energy and Environmental Design—is a certification program that sets the standard for environmentally responsible construction in the United States.
"LEED has certainly raised the bar since being unveiled in 2000 on many of the quality-of-life and environmentally sound principles that have always made for quality buildings," noted Judson Newbern, deputy vice chancellor for facilities and environmental affairs.
The journey to gold for this project began four years ago, at the very beginning of the design process. Warren and Moore feature sustainable elements, including high-performance glass that reduces heat transfer; native landscaping that doesn't require extra irrigation; motion-sensing, low-flow sinks and toilets; low-mercury lighting; low-flow, adjustable-pressure showers; and individually controlled thermostats to conserve energy.
The new residential colleges were recognized for their ample bike storage, promoting clean transportation, and the fact that more than 90 percent of regularly occupied spaces have a direct line-of-sight to the outdoors, promoting an ongoing awareness of the natural environment. The surface lots are paved with perforated concrete that drains rainwater directly back into the ground, reducing pressure on the stormwater system. The housekeeping staff's cleaning products are green.
The U.S. Green Building Council highlighted several notable achievements thus far. The facility has reduced potable water usage by about 50 percent both inside and outside through a green irrigation system and reduced overall energy cost savings by nearly 30 percent. Vanderbilt was recognized for using products made with raw materials documented to have lower impact on the environment. More than a third of the building materials were regionally sourced, and nearly a quarter of the products used in the building are made from recycled materials. More than 80 percent of the demolition waste from the old Kissam Quadrangle was recycled or reused.
"I'm very impressed by the amount of recycled products we were able to remove," said Bob Grummon, Warren and Moore's project manager. "The lighting and climate controls will help the university achieve greater savings when we can shut down entire floors during breaks without having to go room to room."
"Campus Planning and Construction has truly excelled at creating a beautiful, comfortable and innovative space for our students while minimizing the impact to the environment from such an extensive building project," said Andrea George, director of Vanderbilt's Sustainability and Environmental Management Office. "Warren and Moore will positively impact not only our students, but also the environment and local community for many years to come due to the energy and water savings features in the buildings. [rquote]CPC's commitment to building green on our campus is exemplary and a concrete example of Vanderbilt's continued commitment to sustainability."[/rquote]
Vanderbilt has 15 LEED-certified structures, including eight certified Gold. This new facility is Vanderbilt's largest LEED-certified building and the seventh largest in Middle Tennessee. It is also currently the largest certified multi-unit higher education residence building in the state.