Open forum with Dean Emilie Townes at Divinity Community Breakfast
by
Ann Marie Deer Owens
Sep. 17, 2014, 9:00 AM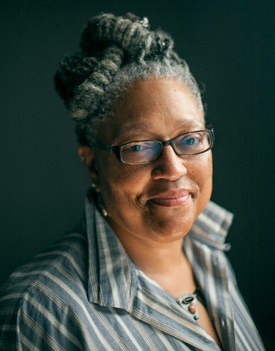 Vanderbilt Divinity Dean Emilie M. Townes will speak briefly about her continuing vision for the Divinity School and then invite questions and comments at a community breakfast on Thursday, Sept. 25.
The first Divinity School Community Breakfast for the new academic year will be in the school's Reading Room from 7:30 to 8:30 a.m.
Townes, the E. Rhodes and Leona B. Carpenter Professor of Womanist Ethics and Society, is an ordained American Baptist clergywoman. Since her arrival on campus in 2013 from Yale Divinity School, Townes has welcomed the opportunity "to be in conversation" with the Vanderbilt and Middle Tennessee communities as she guides a school historically known for its devotion to social justice.
Townes' broad areas of expertise include Christian ethics, cultural theory and studies, postmodernism and social postmodernism. She has been a pioneering scholar in womanist theology, a field of studies in which the historic and current insights of African American women are brought into critical engagement with the traditions of Christian theology.
Townes earned a doctorate in philosophy from the Joint Garrett-Evangelical Theological Seminary/Northwestern University Program in Religious and Theological Studies. She also received a doctorate in ministry from the University of Chicago.
A recent talk she gave for the Thinking Out of the (Lunch) Box series was titled "We Don't Get to Shut the World Out: Some Things an Ethicist Thinks About."
Townes currently serves as president of the Society for the Study of Black Religion. She is a contributing blogger for the religion page of the Huffington Post and the Feminism in Religion Forum.
Reservations are requested for the breakfast, which costs $10. Student registration is free. Please register online or call (615) 936-8453. Townes' talk will be video-streamed and posted after the event at news.vanderbilt.edu.