Cardboard recycling at Move In sets record
Sep. 17, 2014, 9:14 AM
Move In 2014 set a new record for cardboard recycling at Vanderbilt. The August event saw 37.26 tons of cardboard recycled—a 5.31 percent increase over last year's move in, and an increase of more than 450 percent since 2007.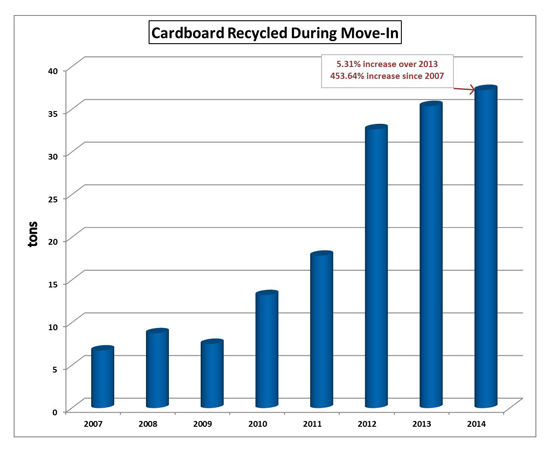 The nearly 75,000 pounds collected this year average to about 11 pounds per each undergraduate student at Vanderbilt. The collection of cardboard at Move In over the last eight years totals nearly 319,000 pounds, resulting in approximately 2,700 mature trees being saved and the conservation of more than 38,000 cubic feet of landfill space.
The effort is a collaboration among Cardboard Crew volunteers, Students Promoting Environmental Awareness and Responsibility (SPEAR), the Plant Operations Grounds Department, and the Sustainability and Environmental Management Office.
For more information about sustainability efforts at Vanderbilt, visit the SustainVU website.