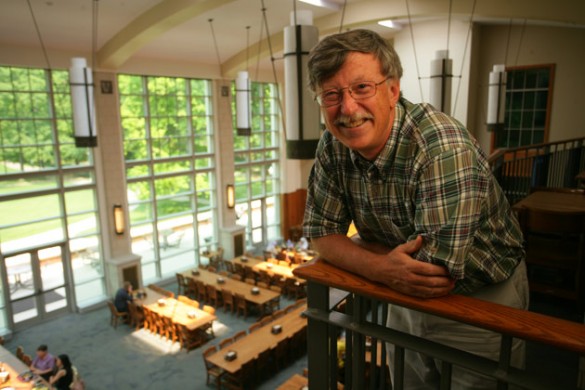 Francis Wcislo, the dean who launched The Martha Rivers Ingram Commons at Vanderbilt University in 2006, has announced plans to step down from that role at the end of his current contract, June 30, 2015.
"The Martha Rivers Ingram Commons has exceeded our highest expectations as the first step in our residential College Halls initiative, and I attribute that success to Frank's avid, innovative and dedicated leadership," Chancellor Nicholas S. Zeppos said. "I am truly grateful for the clear vision he brought to the first-year experience and for his service in this role."
The Ingram Commons opened in 2008 as a new campus-within-a-campus for first-year Vanderbilt students with the goals of integrating living and learning, building community among students and professors from highly diverse backgrounds, and increasing student retention and post-graduation success. All 1,600 first-year students live together in The Ingram Commons' 10 houses, each of which is led by a faculty head of house who serves as the house's mentor and helps residents create their own community norms, identity and activities.
"[rquote]I have had the opportunity to do some amazing things at Vanderbilt, but nothing comes close to these nine years on The Ingram Commons," Wcislo said.[/rquote] "I worked with 15 of our university's smartest and most dedicated professors, our faculty heads of house, and had the privilege to live and learn with the best students in Vanderbilt's history. They, and our consummate professional support staffs, began building a four-year residential college system that will distinguish Vanderbilt for the ages. For an historian, that is the coolest job you ever could imagine."
Since 2008, Wcislo and his family have lived on campus in the Dean's Residence. He and his wife Jane Wcislo, a physical therapy manager at Vanderbilt University Medical Center, frequently opened their home for dinners and discussions with faculty, authors, musicians, alumni, artists, entrepreneurs, physicians, scientists, public leaders, key university administrators and many others. Each year, Wcislo has also welcomed the new class with a dynamic move-in program and celebration that sets the tone for the students' four years at Vanderbilt.
Soon after its opening, The Ingram Commons quickly differentiated Vanderbilt from its peers for prospective students and laid the foundation for the expansion of living-learning opportunities at the university, including the newly opened Warren and Moore Colleges.
"The Ingram Commons has proved that integrating living and learning directly enriches the undergraduate education experience for our students and enhances the university community as a whole," Cynthia Cyrus, vice provost for learning and residential affairs, said. "I am grateful to Frank for his leadership that transformed residential education at Vanderbilt."
Wcislo is associate professor of history and European studies. He joined the Vanderbilt faculty in 1984. In addition to his work as dean, Wcislo teaches courses on modern Russia, Eurasia and Europe. His research and writing incorporates issues of politics, identity and culture in the pre-revolutionary Russian empire. His latest book, Tales of Imperial Russia: The Life and Times of Sergei Witte, 1849-1915 (Oxford, 2011), is a biography of one of the great statesmen of the tsarist empire and a history of the Victorian world he inhabited. Wcislo is a recipient of several university teaching and advising awards, including the 1993 Jeffrey Nordhaus Award for Excellence in Undergraduate Teaching in Arts and Science, the 2003 Madison Sarratt University Prize for Excellence in Undergraduate Education as well as the 1998 Alumni Education Award given by the Vanderbilt Alumni Association.
Wcislo earned his bachelor of arts in political science from the University of Michigan in 1973. He went on to earn a master of arts degree in history from Columbia University in 1977 and a master of philosophy and Ph.D. from Columbia in 1984. He and his wife have four adult children. Their twin daughters, who moved onto The Ingram Commons as high school sophomores, graduate from college in May 2015.
After a writing and research sabbatical in 2015-16, Wcislo will return to teaching as a full-time member of the Vanderbilt faculty. Over the next several months, he will work closely with Cyrus and Provost and Vice Chancellor for Academic Affairs Susan Wente on planning next steps for The Ingram Commons.