Lea Stirling, associate professor of classics at the University of Manitoba, will deliver an Archaeological Institute of America lecture co-sponsored by the Vanderbilt Department of Classical Studies Thursday, Sept. 18, at the Parthenon in Centennial Park.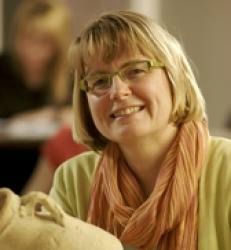 Stirling's lecture, "Food, Funerals, and Fuel at Leptiminus: Honoring the Dead in Roman Africa," will begin at 6 p.m. She will discuss her excavations at Leptiminus (Lamta, Tunisia).
"Textual sources, inscriptions and ancient images all indicate that dining and food offerings for the dead were an important element in funerals and commemoration," Stirling said. "These discussions are usually unspecific about 'menus,' however, and archaeological evidence of actual food remains has often been sparser still. During excavations at the East Cemetery of Leptiminus, an important focus was to collect physical evidence of food remains, namely bones, seeds and residues. Finds related to food preparation and certain architectural features, particularly libation tubes and offering tables, provide further insight."
Stirling, who specializes in Roman art and archaeology, holds a Canada Research Council Chair in Roman Archaeology. Her art historical research focuses on Roman and Late Antique statuary and its role in society.
"Betsey Robinson, Robin Jensen and I had the very great pleasure of traveling to North Africa with Lea two years ago," said Barbara Tsakirgis, associate professor of classics. "We are pleased for this opportunity to learn more about the work she and her team are doing at Leptiminus."
Stirling's lecture, co-sponsored by the Nashville Society of the Archaeological Institute of America, is free and open to the public. Those who would like to attend are encouraged to call the Parthenon at 615-862-8431 to reserve a seat.
Fay Renardson contributed to this story.