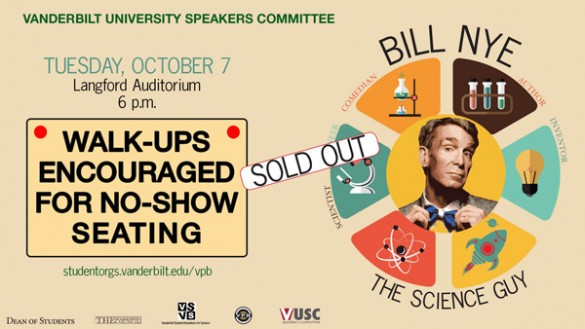 Bill Nye, a popular scientist, engineer, comedian, author and inventor, will speak at 6 p.m. Oct. 7 at Vanderbilt's Langford Auditorium. The event is sponsored by the Vanderbilt University Speakers Committee.
Tickets for the event are currently sold out. However, walk-ups are encouraged the evening of Oct. 7, when tickets for no-show seating may be purchased. Tickets are free for Vanderbilt students, $5 for Vanderbilt faculty and staff and $10 for the general public at the door.
Free overflow seating will be available on a first-come, first-served basis in Light Hall, Room 202. Light Hall connects to Langford Auditorium.
Nye operates at the intersection of science, education and entertainment. He was lured away from an engineering day job to pursue a career in comedy in Seattle. This is where his most famous character, Bill Nye the Science Guy, was created. Eventually the show appeared on Comedy Central and also aired before Saturday Night Live.
Many Vanderbilt students will remember viewing Bill Nye the Science Guy educational videos in school. While working on the show, Nye won seven national Emmy awards for writing, performing and producing. The show won 18 Emmys in five years.
More recently, Nye has worked on various other television projects, including The 100 Greatest Discoveries (Science Channel), The Eyes of Nye (PBS) and Stuff Happens (Planet Green).
Off-camera, Nye serves as executive director of The Planetary Society, the world's largest space interest organization. He had an instrumental role in developing the MarsDials, two sundials residing on Mars. Their inscriptions leave the only message to the future that's been carried on a spacecraft since the Voyager missions launched more than 30 years ago: "To those who visit here, we wish a safe journey and the joy of discovery."
"This is the essence of the scientific enterprise, the 'joy of discovery.' That's what the process of science is all about," Nye said.