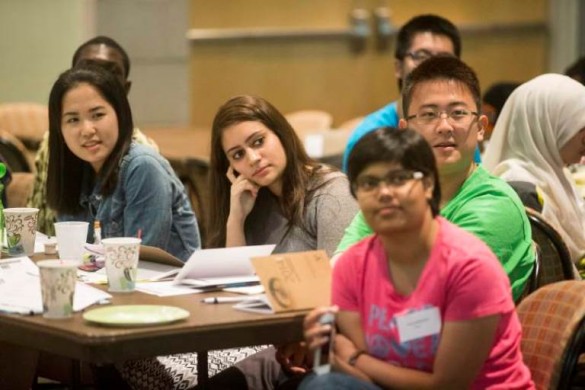 Vanderbilt University scored its best position ever in U.S. News & World Report's ranking of national universities, finishing No. 16 after five years at No. 17.
Vanderbilt was also recognized for outstanding undergraduate teaching, as a "best value" university and was a top pick among national universities recommended by high school guidance counselors. Vanderbilt School of Engineering improved four spots to rank No. 31 with other engineering schools whose highest degree is a doctorate.
"It is an exceptionally exciting time for Vanderbilt academically, financially and culturally, and we are pleased to receive this national recognition of the Vanderbilt experience and the unique learning opportunities we provide to our students," said Chancellor Nicholas S. Zeppos. "We are deeply committed to carrying out our mission of education, discovery and service, and it is always affirming when others notice our hard work and the values of our special collegial community."
Vanderbilt shared the No. 16 ranking with Brown and Notre Dame. Princeton was the No. 1-ranked school for the fourth straight year, followed by Harvard, Yale and three schools tied for No. 4 – Columbia, Stanford and the University of Chicago.
High school counselors were polled on their top picks among the national universities. They selected Vanderbilt at No. 20, tied with Washington University in St. Louis. That category was headed by a six-way tie between Columbia, Harvard, Massachusetts Institute of Technology, Princeton, Stanford and Yale.
Vanderbilt was also highly touted for its commitment to undergraduate teaching. Among national universities, it was ranked by academic experts at No. 8 in a tie with Yale. Princeton finished first in this category.
"This is a tremendous credit to our incredible faculty and their devotion to deeply engaging our students in both learning and discovery," said Susan Wente, provost and vice chancellor for academic affairs. "Teaching is foundational to our mission as a research university, and we are dedicated to continuing to move forward by strategic investment and innovation."
Vanderbilt School of Engineering ranked No. 31 among engineering schools whose highest degree is a doctorate, alongside Rensselaer Polytechnic Institute, University of California, Davis and the University of Virginia.
"It is gratifying to earn this kind of widespread recognition for our accomplishments," said Philippe Fauchet, dean of the School of Engineering and professor of electrical engineering.
Vanderbilt placed well in two economically based categories in the U.S. News & World Report rankings.
For the "Great Schools, Great Prices" category, the magazine used a formula taking into account the academic rating and net cost of attendance for a student who received the average level of need-based financial aid. Vanderbilt was No. 11 on this list, which was headed by Harvard.
Vanderbilt was also recognized for its economic diversity with placement on a list of national universities with the highest percentage of students receiving federal Pell grants. Vanderbilt's 14 percent earned it a spot in the Top 20.