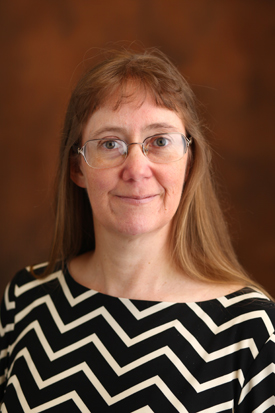 Cynthia J. Cyrus has been promoted to the position of vice provost for learning and residential affairs at Vanderbilt University, effective immediately. Cyrus most recently served as associate provost for undergraduate education and digital learning.
In her new role, Cyrus will be focused on the synergy between discovery and learning, and coordination across all years of the undergraduate residential experience as additional phases of faculty-led living and learning communities emerge.
"[lquote]Cynthia's track record of leading significant change under aggressive timeframes and her proven ability to build consensus have been key drivers of Vanderbilt's emergence as a leader in digital learning and the undergraduate residential experience,"[/lquote] Provost and Vice Chancellor for Academic Affairs Susan Wente said. "Her talents and experience are exactly aligned with our goals and priorities as we move forward with implementing the Academic Strategic Plan, and I'm delighted that she has accepted this new role."
Cyrus has served in the Office of the Provost since 2011. During that time, she led the university's partnership with the online learning platform Coursera, where enrollments have recently passed the 500,000 mark, and launched the Vanderbilt Institute for Digital Learning (VIDL), which facilitates campus discussions of online and technologically facilitated learning, promotes research in these areas, and sustains Vanderbilt's ongoing presence in the MOOC (Massive Open Online Course) environment. Cyrus also oversaw a revision of the Vanderbilt honor system and facilitated the development of a unified 10-school statement of the honor code.
"I am honored by this promotion," Cyrus said. "Working as a member of the provost's team has already given me the opportunity to meet and work with so many members of the campus community, and I look forward to contributing to the new directions the strategic plan lays out for the campus."
Cyrus was deeply involved in the planning and launch of Warren and Moore Colleges, in which she coordinated several committees of faculty, staff and students to establish the ideals of the residential colleges for returning students; hired the colleges' new faculty directors; and selected the first cohort of student residents who will create the "engaged community" that is a hallmark of the program.
"A good committee can harness the vast experiences of dozens of faculty members, and I enjoy the puzzle of putting together the right combination of faculty, staff and students to move a project forward," Cyrus said.
Cyrus joined the Vanderbilt University faculty in 1994 and currently is professor of musicology at Vanderbilt's Blair School of Music, where she also served as associate dean of the collegiate program from 2004 to 2010. She remains active as a scholar, having finished four books in five years while also serving first as associate dean and then as associate provost. Her interdisciplinary work on women's monastic communities and their libraries has led to national and international speaking engagements. She is currently working on the liturgy of and social context for a late medieval women's convent established for penitent prostitutes.
Cyrus received her B.A. in music from Pomona College and her M.A. and Ph.D. in musicology from the University of North Carolina at Chapel Hill.