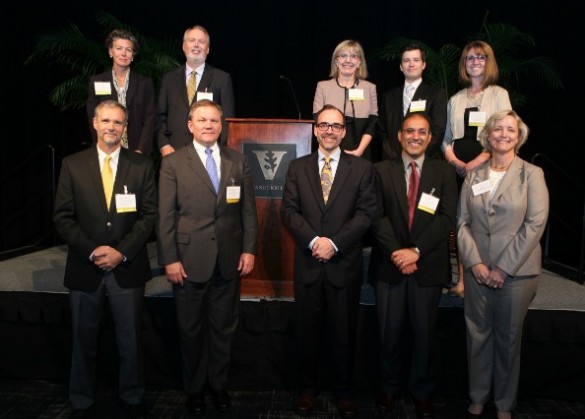 Nine Vanderbilt University faculty members named to endowed chairs were recognized for their extraordinary academic achievements during a Sept. 3 celebration at the Student Life Center.
"Today's celebration is a perfect reminder of the multiple ways in which Vanderbilt contributes to improve our world," said Susan Wente, provost and vice chancellor for academic affairs, in her introductory remarks. "You will hear some absolutely remarkable stories of amazing faculty and the work that they have done over their careers. They are helping to advance, for example, the care of newborn babies, investigating how to solve poverty, insuring large infrastructure is safe, innovating health care models, uplifting the human spirit through music and arts, as well as enriching our understanding of the past."
The new chair holders are:
Wente noted that Vanderbilt is deeply grateful to generous donors as well as family members and faculty colleagues whose support has made the honorees' accomplishments possible.
This was the 14th celebration to honor faculty members who have been named to endowed chairs. A total of 143 chair holders have been honored since the initiative to recruit and retain outstanding scholars and teachers was announced by Chancellor Nicholas S. Zeppos in August 2010.