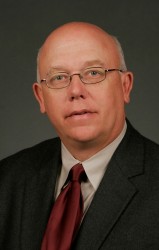 Noted political scientist John Geer has been named vice provost for academic and strategic affairs at Vanderbilt University.
Geer is the Gertrude Conaway Vanderbilt Professor of Political Science. During the 2013-2104 academic year, he and Provost and Vice Chancellor for Academic Affairs Susan Wente co-chaired the university's Academic Strategic Planning process, which involved more than 600 faculty, students and staff. Chancellor Nicholas S. Zeppos launched the plan Aug. 21 at the Fall Faculty Assembly.
"Through his research, teaching and mentoring, John Geer has distinguished himself as a visionary colleague and a highly effective leader," Wente said. "I am thrilled that he has accepted this appointment to join me as we begin the work of implementing the goals and priorities outlined in the Academic Strategic Plan."
Geer's five-year term as vice provost begins Sept. 1 and will continue through June 30, 2019, at which time it can be renewed.
"I am excited to have this opportunity to work with Provost Wente and my colleagues across the university to bring to fruition the initiatives that arose from uncounted faculty, staff and student conversations that took place over the last year," Geer said. "[rquote]There is no other university as well positioned as Vanderbilt to have a transformative impact on learning and discovery over the next decade, and I am humbled and honored to be part of this continuing process."[/rquote]
Geer's work will largely focus on developing, launching and helping to institute Vanderbilt's academic strategic vision in alignment with the Academic Strategic Plan and assisting with fundraising initiatives to support related programs. As a member of the provost's leadership team, he will also work closely with the deans of each of the university's colleges and schools on academic matters, including strategic faculty recruitment and retention.
Geer is currently chairing the search committee for the new dean of the College of Arts and Science. He is the chair of the Department of Political Science, professor of public policy and education, and co-director of the Vanderbilt Poll.
Geer has taught political science at Vanderbilt since 1995. He earned his Ph.D. from Princeton University in 1986 and his bachelor's degree from Franklin and Marshall College in 1980. He has published five books and more than 20 articles on presidential politics and elections, and has served as editor of The Journal of Politics (2005-2009). In 2015, the third edition of Gateways to Democracy will appear in print. An earlier book, In Defense of Negativity: Attacks Ads in Presidential Campaigns, won the Goldsmith Book prize from Harvard University in 2008. Geer has provided extensive commentary in the news media on politics, including live national interviews for FOX, CNN, NBC, CBS, MSNBC, ABC, PBS, and NPR. Geer has also written op-ed pieces for Politico, The Washington Post, Los Angeles Times, USA Today and Chicago Tribune.
Geer's teaching has earned him a number of awards at Vanderbilt, including the 2014 Vanderbilt Alumni Education Award, the 2009 Ellen Greg Ingalls Award for teaching excellence, the 2005 Jeffrey Nordhaus Award and the 2004 Birkby Prize.