Vanderbilt Divinity hosts 'Subjects with Objects' exhibition
by
Ann Marie Deer Owens
Aug. 29, 2014, 1:45 PM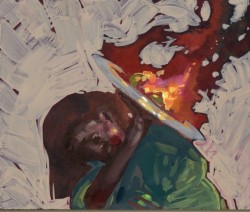 An exhibition of paintings that were produced on location in pubs, restaurants and other public spaces and have interpretive, poetic captions will be displayed at Vanderbilt Divinity School Sept. 4 through Nov. 13.
Religion in the Arts and Contemporary Culture presents "Subjects With Objects: A Unique Collection of Art and Text by Jonathan Richter and DKM" in the ground floor gallery (G-20) of the Divinity School. Opening receptions will take place Sept. 4 from noon to 1 p.m. and from 4 to 7 p.m. in the gallery. In addition, Richter and DKM will give a talk in the gallery Sept. 10 from 12:10 to 1 p.m.  The exhibition is free and open to the public.
Richter, who has a Nashville animation and art studio, studied at the Otis Parsons Art Institute in Los Angeles. He has created animation for a variety of clients and purposes, including the films Blue Like Jazz, The Box and House of Numbers: Anatomy of an Epidemic."
Accompanying each of Richter's paintings is an interpretive caption by the poet who identifies himself as DKM," said Dave Perkins, associate director of Religion in the Arts and Contemporary Culture, a program housed in the Divinity School. "The captions are sometimes playful, sometimes deeply insightful, but they all work to expand the variety and scope of meanings available to the exhibition audience."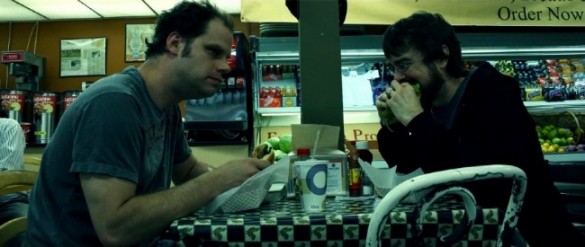 The gallery, located at 411 21st Ave. S., is open Mondays, Tuesdays and Wednesdays from noon to 2 p.m. and by appointment.
The Religion in the Arts and Contemporary Culture Program assists future religious leaders to understand and harness the creativity of the arts for theological reflection and contemporary worship. Equally, it assists practicing artists within the popular culture industry in their exploration of the theological context and religious dimensions of their work. For more information, call 615-322-2776.