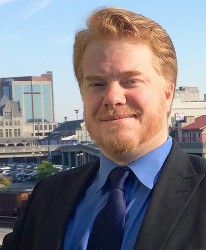 Assistant Professor of Psychology Alexander Maier has been selected to receive the Society for Neuroscience's Janett Rosenberg Trubatch Career Development Award for 2014.
The purpose of the award, which is given to only two individuals each year, is "to recognize individuals who have demonstrated originality and creativity in research and to promote success during academic transitions prior to tenure."
Maier was recognized for his efforts to understand the basic mystery of how perception arises from neural activities. A prime focus of his research program is to differentiate between the neural circuitry that is involved in visual perception and sensory activity that does not attain the level of conscious awareness. His work has important implications for treating patients with visual disorders characterized by an inability to perceive or recognize certain types of visual images. He is also one of a handful of scientists studying the relationship between the electrical activity in the brain and the variations in blood flow that are measured by the brain mapping technique fMRI, the most commonly used and most reliable method for measuring neural responses in the human brain.
Recipients receive a $2,000 award and complimentary registration to the society's annual meeting.