Media Inquiries
Latest Stories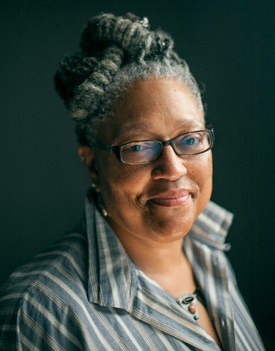 The Rev. Dr. Emilie M. Townes will discuss recent events in the news from her perspective as an ethicist with a commitment to social justice when Thinking Out of the (Lunch) Box: Conversations with a Philosophical Flavor with David Wood resumes Sept. 3. Each talk at the Nashville Public Library begins with lunch at 11:30 a.m. and the talk at noon.
Thinking Out of the (Lunch) Box is hosted by David Wood, W. Alton Jones Professor of Philosophy at Vanderbilt and founder of the series. "We look forward to the opportunity for Vanderbilt professors and others to present their work to the Nashville community while engaging in lively and thought-provoking discussions," Wood said.
Townes' talk is titled "We Don't Get to Shut the World Out: Some Things an Ethicist Thinks About." She is the dean of Vanderbilt Divinity School and the E. Rhodes and Leona B. Carpenter Professor of Womanist Ethics and Society. Townes has been a pioneering scholar in womanist theology, a field of studies in which the historic and current insights of African American women are brought into critical engagement with the traditions of Christian theology. Her areas of interest include economic justice and health care. The ordained Baptist clergywoman serves as president of the Society for the Study of Black Religion.
Thinking Out of the (Lunch) Box is sponsored by the Friends of the Nashville Public Library. Reservations are no longer necessary. Interested individuals just show up at the library, located at 615 Church St.
A limited number of free lunches will be available starting at 11:30 a.m. A voluntary donation of $5 is suggested per lunch to help defray expenses. Lunch will continue to be in the library's conference center, but the conversation moves to the auditorium from noon to 1 p.m.
For more information, contact David Wood.