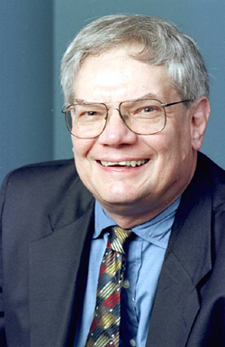 Harold G. "Hal" Maier, a renowned scholar of international law who spent his entire academic career at Vanderbilt Law School, died Aug. 24. He was 77.
Maier was an internationally recognized authority on the application of U.S. regulatory legislation to foreign business activity.
"[rquote]Hal was a giant in his field and on Vanderbilt's campus,"[/rquote] said Chris Guthrie, dean and John Wade-Kent Syverud Professor of Law at Vanderbilt Law School. "He played a crucial role in building the law school's leading international program."
Hired in 1965, Maier sought to establish a program to train students interested in an international law practice, enable scholarship in international law studies, and appeal to a broader base of students.
"Only a program that combined a full curriculum, diverse faculty members and broad-based student activities could accomplish all three goals," Maier wrote in a 1992 article for Vanderbilt Lawyer magazine. Over four decades, he worked with six deans to build and support a thriving program while also serving the university as chair of the Faculty Senate, on two provost search committees and on the law school's faculty appointment committee.
A prolific scholar, Maier's work in the field of international law, international civil litigation and conflict of laws gained a global audience.
"Long before there was a critical legal studies movement, Hal was thinking about how law was socially constructed," said Tom McCoy, Vanderbilt professor of law, emeritus. "He tended to gravitate toward subjects that were developing or unsettled. The study of international law was relatively new at the time he went into academia, and he also focused on conflict of laws, which is a collection of unsolved problems."
In Maier, students encountered the embodiment of the absent-minded professor.
"Clad in a white shirt and oh-so-narrow ties which he constantly seemed to be adjusting, Professor Maier was one of those teachers who wandered around the front of the classroom, seeming to come toward the student he was engaging in conversation," said former student Paul Kurtz, now J. Alton Hosch Professor of Law, Emeritus, at the University of Georgia Law School.
"It was always a conversation, not a performance," Kurtz said. "He asked careful question after careful question. No yelling or screaming, but a brilliant demonstration of complete control of the subject."
Maier served as a consultant to the secretary of the Army on the Panama Canal Treaty negotiations and as an expert witness for the federal government in civil litigation resulting from the Mariel boatlift of Cuban refugees in 1980. In 2000, he testified before the Senate Judiciary Committee on behalf of former U.S. World War II prisoners of war seeking to bring legal action against Japanese corporations, claiming they had been used as slave labor while prisoners. He also testified before a congressional committee regarding emergency presidential controls on international economic transactions.
Maier earned his undergraduate and law degrees at the University of Cincinnati, serving as editor-in-chief of the Cincinnati Law Review. He also earned an LL.M. at the University of Michigan.
Maier founded the student-edited Vanderbilt Journal of Transnational Law in 1967 and served as its faculty adviser until his retirement in 2006. He was co-author (with Thomas Buergenthal) of Public International Law in a Nutshell and dozens of journal articles and book chapters, some in German, which he spoke fluently. Maier also helped form the student International Law Society.
A family memorial service was held in Nashville. He is survived by sons Marc and Kurt Maier; and grandchildren Sydney, Mackenzie and Zachary Maier.