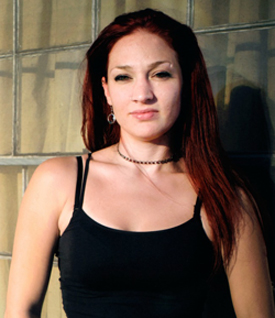 Donna Ferrato, a documentary photographer who has received international acclaim for her work to capture and end family violence, will launch Sept. 12 at Vanderbilt University the first gallery exhibition in her series that focuses on women who have left their abusers.
"I Am Unbeatable–Documenting and Celebrating Stories of Empowerment: Photographs by Donna Ferrato," will be on display at Vanderbilt Fine Arts Gallery through Dec. 4. The exhibition is free and open to the public. A reception will be held in honor of the photographer Sept. 12 from 5 to 8 p.m. Ferrato will speak on "Looking for Positive Change in a Climate of Fear" at 6 p.m. In addition to photographs, a video about a survivor of domestic violence named Sarah will run continuously in the gallery.
Ferrato sought to document the story of a woman who could overcome her fears of powerlessness, of pain, of losing love, of losing her children, of being alone, of being penniless, and of building a new life. She said that she wanted someone who could serve as a role model for girls and young women who are afraid of the men who were supposed to cherish them. The triumphant story of Sarah, her family and their new life is an important focus of the exhibition.
The renowned photographer's efforts to document and combat domestic violence began while on assignment for Japanese Playboy magazine in 1982. A couple she had met at a so-called swingers club had invited her to stay at their home for an article about their lifestyle. "That experience changed my life as a photographer," said Ferrato, who tried to intervene when she saw the husband beating his wife. "Until then I had been trying to show the beauty of people in love. Shocked that love could go so wrong, I became obsessed with documenting domestic violence. [rquote]Driven to do something about it, I found that a camera was my best weapon."[/rquote]
Ferrato began riding with police officers, visiting prisons and emergency rooms, and staying in battered women's shelters to capture unforgettable photographs that exposed domestic violence. In 1991, she founded the Domestic Abuse Awareness Project and published the book Living with the Enemy (Aperture, 1991). The Vanderbilt Fine Arts Gallery holds 15 photographs from this body of work, many of which are included in the exhibition.
Ferrato's photographs have appeared in The New York Times Magazine, Life, Time, USA Today and numerous other publications and broadcast stories. They also have been part of antiviolence campaigns by President Bill Clinton and former New York Mayor Rudolph Giuliani, among other initiatives.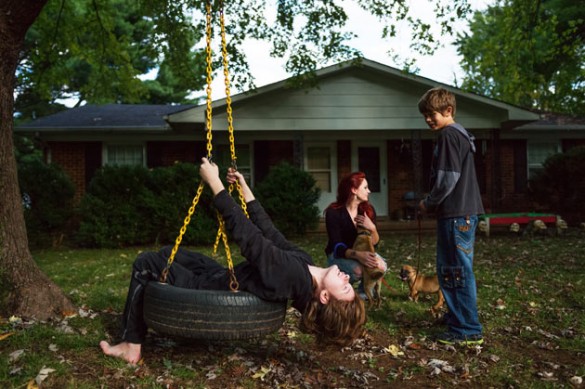 In addition to the photography and video of Sarah, "I Am Unbeatable" includes a number of public service announcements created by Ferrato in collaboration with award-winning journalist Alex Chadwick. Chadwick is noted for his work in public radio, where he was a co-creator of "Morning Edition." His current project is a series of specials on the subject of energy and climate, "Burn: An Energy Journal," carried by more than 300 stations across the country. The exhibition also has a number of short essays by Claudia Glenn Dowling, a past writer for Discover, Smithsonian, Time and other publications. She previously worked for People and Life magazines.
This exhibition has been curated by Joseph S. Mella, director of the Fine Arts Gallery, with support from The Martha Rivers Ingram Commons at Vanderbilt, the College of Arts and Science, the Project Safe Center for Sexual Misconduct Prevention and Response, and the Robert Penn Warren Center for the Humanities. Additional support has been provided by a Creative Campus Innovation Grant from the Curb Center for Art, Enterprise and Public Policy and by a generous gift from Leslie Cecil and Creighton Michael, who earned his master's in art history from the College of Arts and Science in 1976.
The Fine Arts Gallery is located in Cohen Memorial Hall, 1220 21st Ave. S. Gallery hours are Monday through Friday from 11 a.m. to 4 p.m., and weekends from 1 to 5 p.m. The gallery will be closed Oct. 16 through 19 for fall break and Nov. 22 through 30 for Thanksgiving break.
For more information on the exhibition, visit the gallery's website or call 615-322-0605.
View high-res digital versions of selected images here.