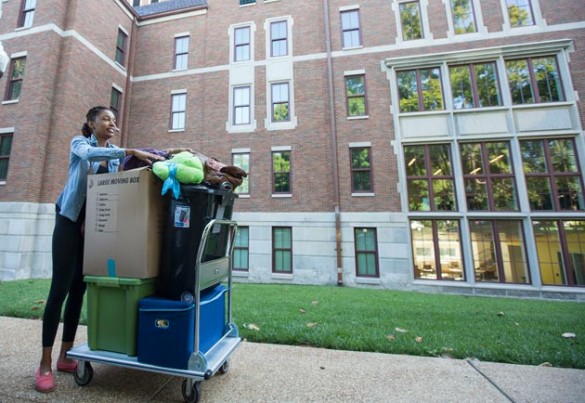 Move in has begun at the newly opened Warren and Moore colleges on the northeast corner of Vanderbilt's campus. The colleges continue Vanderbilt's commitment to creating faculty-led living and learning communities by extending the model of The Martha Rivers Ingram Commons for first-year students and offering opportunities to develop an engaged community for returning sophomores, juniors and seniors.
Warren and Moore each will house about 330 upperclassmen and be led by faculty directors in residence. Both colleges also are divided into two halls, each led by a graduate fellow.
Jordan McNary (pictured), a College of Arts and Science junior from Hot Springs, Arkansas, moved in to her room on Elliston Hall in Warren College on Aug. 13.
Take a look inside Warren and Moore Colleges.
Move in for first-year students at The Ingram Commons will begin Saturday, Aug. 16, with other students moving in to residence halls across campus the following week.