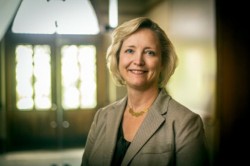 Provost and Vice Chancellor for Academic Affairs Susan Wente has appointed a committee, including a Board of Trust member, a dean, numerous faculty members, alumni and a current student, to conduct the search for the next dean of the College of Arts and Science. John Geer, Gertrude Conaway Vanderbilt Professor of Political Science, will chair the committee.
"As members of Vanderbilt's largest school, the faculty, students and staff of the College of Arts and Science are foundational elements of our university's identity and success," Wente said. "I'm grateful to Professor Geer for his willingness to serve in this important role, and am confident this committee will identify a stellar candidate to lead the college into its next era."
Geer served with Wente as a co-chair of Chancellor Nicholas S. Zeppos's academic strategic planning committee during academic year 2013-2014. He is chair of the Department of Political Science and also professor of public policy and education.
"I am looking forward to working with my fellow committee members as we identify the College of Arts and Science's next leader," Geer said. "Our committee has critical representation from all corners of the university, ensuring that we bring diverse perspectives to bear on this important recruitment."
The committee includes trustee and Vanderbilt alumnus David Patterson, alumnus and Arts and Science Board of Visitors member Brian Grove, and Owen Graduate School of Management Dean M. Eric Johnson. Joining them are faculty from the College of Arts and Science, the Blair School of Music, the School of Engineering, Peabody College of education and human development, Owen Graduate School of Management and the School of Medicine. Recent Ph.D. graduate Jessica Riviere and current undergraduate Khalila Blake will also serve on the committee. An external search firm will be secured to assist the committee.
John M. Sloop is the interim dean of the College of Arts and Science. Sloop, who is a professor of communication studies and has also served as senior associate dean for faculty in Arts and Science, was appointed interim dean by Zeppos in May 2014 after former dean Carolyn Dever assumed the role of provost at Dartmouth College.
Search committee members
John Geer, Chair
Gertrude Conaway Vanderbilt Professor of Political Science
Chair of Political Science
Professor of Public Policy and Education
Doug Adams
Daniel F. Flowers Professor
Professor of Civil and Environmental Engineering
Professor of Mechanical Engineering
Chair of Civil and Environmental Engineering
Celia Applegate
William R. Kenan, Jr. Professor
Professor of History
Associate Chair of History
Larry Bartels
May Werthan Shayne Professor of Public Policy and Social Science
Professor of Political Science
Khalila Blake
Senior, College of Arts and Science

Joy Calico
Associate Professor of Musicology
Director, Max Kade Center for European and German Studies
Jennifer Fay
Director, Program in Cinema and Media Arts
Associate Professor of Cinema and Media Arts
Associate Professor of English
Stella Flores
Associate Professor of Public Policy and Higher Education
Associate Professor of Sociology
Katherine Friedman
Associate Professor of Biological Sciences
Director of Graduate Studies
Derek Griffith
Associate Professor of Medicine, Health and Society
Associate Professor of Sociology
Associate Professor of Medicine
Brian Grove
Member, College of Arts and Science Board of Visitors
B.A. '82, M.B.A '83
M. Eric Johnson
Ralph Owen Dean of the Owen Graduate School of Management
Bruce D. Henderson Professor of Strategy
Professor of Management
Jeffrey Johnston
Stevenson Professor of Chemistry
Dana Nelson
Gertrude Conaway Vanderbilt Professor of English
David Patterson
Trustee, Vanderbilt University Board of Trust
B.A. '81, M.D. '85
Jessica Riviere
Lecturer, Department of Germanic and Slavic Languages
Ph.D. '14
Kamal Saggi
Frances and John Downing Family Professor
Chair of Economics
Professor of Economics
Director of the Graduate Program in Economic Development
Mark Wallace
Director, Vanderbilt Brain Institute
Professor of Hearing and Speech Sciences
Professor of Psychology
Professor of Psychiatry