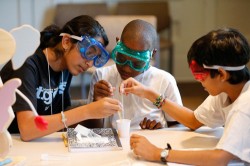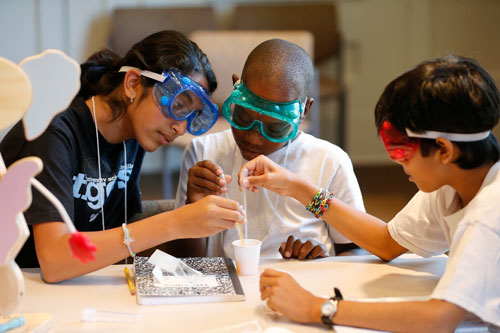 The Saturday Academy at Vanderbilt for the Young (SAVY) provides a dynamic, fast-paced curriculum experience to qualifying gifted children in kindergarten through grade 6. Vanderbilt professors, master teachers and graduate students offer accelerated SAVY courses that cover a wide variety of topics.
Who?
Gifted students entering kindergarten through grade 6 in the fall of 2014, specifically students who test at the 95th percentile and above on a standardized achievement or ability test.
What?
Small classes designed for the exceptionally talented and motivated learner. Class size is limited to approximately 12 students for grades K-2 classes, and approximately 15 students for grades 3-6. Courses are taught by Vanderbilt scholars and master teachers. Some of our fall 2014 course offerings include Engineering, Microbiology and Anthropology. Some of our spring 2015 offerings include Statistics, Neuroscience and Flash Fiction.
When?
Fall 2014: Six consecutive Saturdays (Sept. 27-Nov. 1) from 9 to 11:45 a.m.

Spring 2015: Six consecutive Saturdays (Feb. 7- March 14) from 9 to 11:45 a.m.
Where?
All SAVY classes are held on Vanderbilt's Peabody Campus.
Registration for Saturday SAVY 2014-15 begins Aug. 4 at noon. Log on to pty.vanderbilt.edu to register.
Questions?
Visit our website, pty.vanderbilt.edu, or call 322-8261.
Contact: Megan Parker Peters, (615) 322-8261
megan.peters@vanderbilt.edu