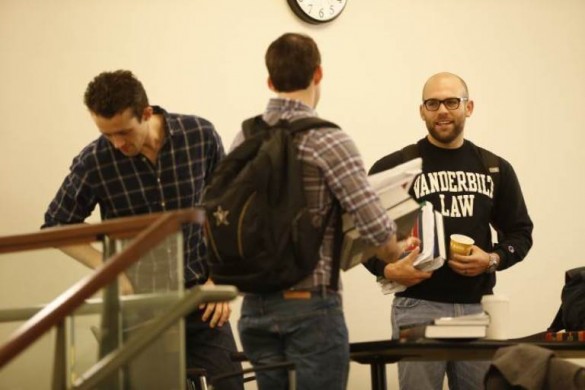 Select law school students can also earn a master's in finance without increasing their time in school through a new program offered by Vanderbilt Law School and Owen Graduate School of Management at Vanderbilt.
[rquote]"For lawyers heading to Wall Street, understanding markets is critical to building a successful career in financial service,"[/rquote] said M. Eric Johnson, the Ralph Owen Dean of Vanderbilt University's Owen Graduate School of Management and also the Bruce D. Henderson Professor of Strategy.
Launching the fall semester of 2014, the program grew out of discussions between Johnson and Vanderbilt Law School Dean Chris Guthrie begun shortly after Johnson's arrival in July of 2013.
"We are excited to partner with the Owen School to offer this dual degree," said Guthrie, the John Wade-Kent Syverud Professor of Law. "This effort builds on our leading Law and Business Program and will provide select students with a unique opportunity to deepen their expertise in both law and finance."
Prospective students should apply for admission to the J.D. and M.S.F. programs simultaneously. Spaces in this three-year joint degree program are limited. Students will spend the first two years in law school, then a full semester at Owen and finally mix law and business courses during their last semester.