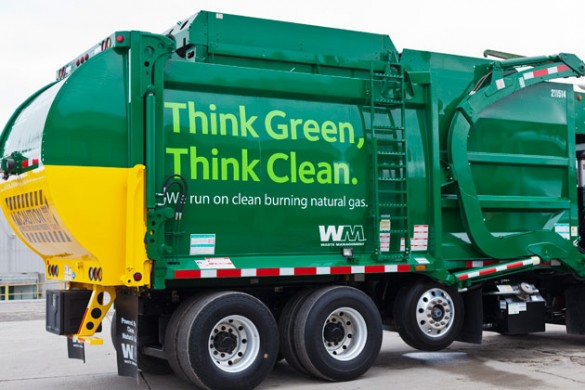 Vanderbilt's waste and recycling vendor, Waste Management, has launched a new fleet of natural gas-powered trash collection vehicles in conjunction with the opening of a self-service compressed natural gas (CNG) retail fueling station in Nashville. The station will refuel Waste Management's local fleet and sell CNG to commercial fleets as well as to retail consumers with CNG-equipped vehicles. As a result, almost all of the Waste Management vehicles that service Vanderbilt's campus will be CNG fueled.
Currently, Waste Management operates 30 CNG-powered collection vehicles in Middle Tennessee and plans to add 10 more by the end of July. CNG is one of the cleanest fuels currently available for use in heavy-duty trucks and will reduce Waste Management's diesel consumption by approximately 8,000 gallons per year and greenhouse gas emissions by 22 metric tons per year. This is equal to the emissions from 52,381 miles driven by a typical passenger vehicle, according to the EPA's green house gas calculator. As an additional benefit, CNG trucks run quieter than their diesel counterparts, a feature that will be welcomed by students who live in residence hall rooms near dumpsters.
"Since natural gas-powered collection trucks run cleaner and quieter, we've made the commitment to use more in our local operations and support them and our community by opening a public CNG station," said Tim Wells, Waste Management's area vice president. "We are dedicated to providing our customers with outstanding service while doing business in the most sustainable manner possible."
"We are pleased that Waste Management's fleet improvements align with and support Vanderbilt's ongoing commitment to sustainability," said Andrea George, director of Vanderbilt's Sustainability and Environmental Management Office. "The CNG-powered vehicles will provide air and noise pollution reductions that will positively impact our campus and Nashville in general."
Learn more about Vanderbilt's sustainability initiatives, and read further about Waste Management's commitment to sustainability.
Contact: Matthew Buckley, (615) 343-2784
matthew.d.buckley@vanderbilt.edu