Commodores everywhere savor a national championship
by
Jim Patterson
Jun. 26, 2014, 8:48 PM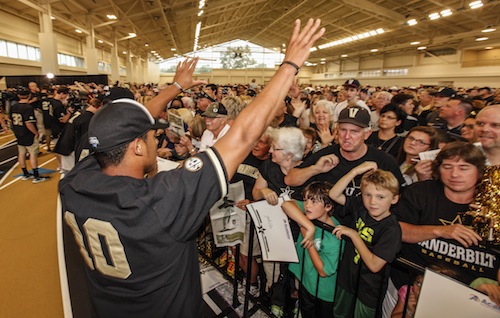 The event was over, but the Vanderbilt baseball players lingered as gold pom-poms kept waving and fans pressed forward hoping for autographs.
The Vanderbilt Commodores were meeting their fans on their Nashville home turf June 26 for the first time since winning the College World Series a day earlier, and nobody was in any hurry for the moment to pass.
"This feeling – treasure it," advised Chancellor Nicholas S. Zeppos. "This is a big deal. This is a really, really, really big deal."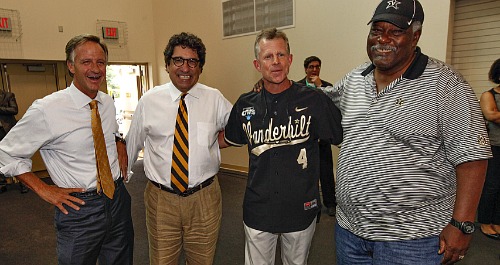 Dignitaries including Gov. Bill Haslam gathered at the indoor practice field in the Vanderbilt Recreation and Wellness Center as witnesses to Vanderbilt fans and athletes paying tribute to each other.
The players loved the fans for the loyalty over many hard years – the baseball championship is the first men's national championship in school history, and only the second overall. The women's bowling team won the national championship title in 2007.
The fans loved the baseball players for their excellence on the field and their character. As the governor put it: "Thank you just not for winning the national championship. Thank you for the way you won the national championship."
Mayor Karl Dean of Nashville was represented by Councilman-at-Large Ronnie Steine, who read a proclamation of congratulations on behalf of the city of Nashville.
A commanding home-run swing by John Norwood gave Vanderbilt a 3-2 victory in the rubber game of the College World Series June 25 in Omaha, Nebraska.
There were other heroics during the three-game Virginia series. Pitching was key in corralling the Cavaliers' potent offense. Vanderbilt second baseman Dansby Swanson was chosen the CWS Most Outstanding Player, batting .323 and scoring five runs, driving in two and stealing three bases. He played flawlessly in the field.
The normally sedate summer Vanderbilt campus was gripped by excitement, with large crowds greeting the team when they arrived on campus early in the afternoon on the team bus, and then later at the practice field celebration.
"The College World series is probably about the hardest national championship in college athletics to win," said David Williams, vice chancellor for athletics and university affairs and athletics director.
"They didn't go to Omaha to have a little fun. They didn't go to Omaha to show the colors. They went to Omaha for 15 days. … They went to Omaha to win a championship."
Williams called Vanderbilt coach Tim Corbin "the best baseball coach on the planet."
When Corbin spoke, he deflected praise sent his way toward his players and staff. But he expressed special appreciation for Vanderbilt sports fans who have waited a long time for this championship moment.
"There is a silver lining," he said. "No, there isn't. There's a gold lining. Enjoy this moment. Share this moment together."
For complete coverage of the College World Series Championship and Vanderbilt Baseball, visit vucommodores.com.