Wente to Promote Collaborative Research and Education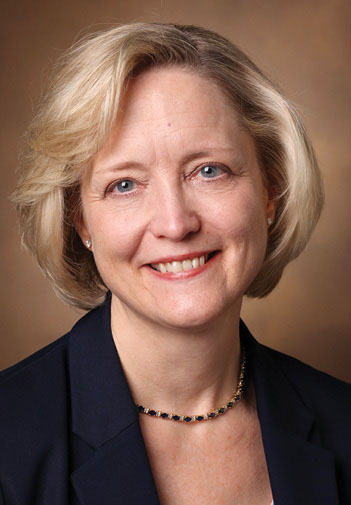 Susan R. Wente, a distinguished scientist who has served as associate vice chancellor for research at Vanderbilt for the past five years, has been named provost and vice chancellor for academic affairs.
Wente also is senior associate dean of biomedical sciences and professor of cell and developmental biology in the School of Medicine. During the past year she has taken on the additional role of co-chairing the executive committee of the university-wide academic strategic plan to set the course for Vanderbilt's future.
"Susan is a strong and confident leader and a brilliant scholar who is exceptionally well positioned to keep Vanderbilt on a bold and exciting path," Chancellor Nicholas S. Zeppos said when announcing the appointment April 28.
Wente will assume her new duties July 1, pending confirmation by the Vanderbilt Board of Trust. She will succeed Richard McCarty, who is stepping down after serving six years as provost and vice chancellor for academic affairs.
"I am deeply committed to Vanderbilt's academic missions of excellence in discovering and learning," says Wente. "It is such an exciting time at Vanderbilt, and we are poised to work collaboratively to make the most of our distinctive research and education strengths across the university."
As associate vice chancellor for research, Wente is involved in promoting research discoveries, providing optimal infrastructure to support basic science research, and designing strategic planning for Vanderbilt's basic science research efforts. In her role as senior associate dean of biomedical sciences, she spearheads basic science education and post-doctorate training of more than 600 graduate students, more than 500 postdoctoral fellows, and several transinstitutional graduate programs.
She continues to operate her lab, and her work studying the mechanism for highly selective, bidirectional exchange of proteins and genetic material between the nucleus and cytoplasm has been nationally recognized.
Wente earned her bachelor of science from the University of Iowa and a Ph.D. in chemistry from the University of California–Berkeley. She did postdoctoral work at Memorial Sloan Kettering Cancer Center in New York as well as a fellowship at Rockefeller University. In 1996, while on the faculty at Washington University School of Medicine in St. Louis, she and her colleagues discovered Gle1, a protein involved in gene regulation.
She came to Vanderbilt in 2002 as professor and chair of cell and developmental biology. Six years later a link between the Gle1 gene and a lethal human fetal disease was reported.
---
Watch Susan Wente and John Geer discuss the importance of the academic strategic planning process: