Pen Pal Project Unites Graduate, Middle-School Students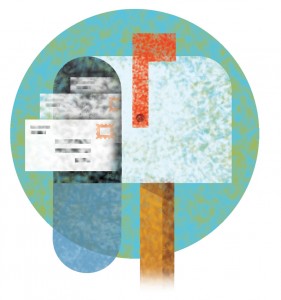 On April 16 more than 100 sixth graders from Wright Middle School—one of the most diverse schools in Nashville—met the Vanderbilt Graduate School student pen pals with whom they have corresponded for the entire school year and got a tour of Vanderbilt University Medical Center facilities.
The project was the brainchild of Omozusi "Zusi" Andrews, a Ph.D. candidate in biological sciences, and E. Margarita Prieto-Ballengee, PhD'13. As the pair walked together in 2012 during the Graduate School Council's (GSC) Hike for the Homeless, they hatched the idea of bringing GSC members together with young students to encourage them to pursue higher education goals.
The sixth graders were accompanied to campus by their science teacher, Rachel King, MEd'12, who is a graduate of the master's program in teaching and learning in urban schools, a partnership between Metro Nashville Public Schools and Vanderbilt's Peabody College of education and human development.
While at Peabody, King got to know Jeannie Tuschl, program coordinator for the Scientist in the Classroom Partnership program in the Vanderbilt Center for Science Outreach. It was Tuschl who connected King with Andrews, Prieto and other GSC members.
A pilot was launched last year with 45 middle-school students. During the past academic year, the project more than doubled in size to 110 students, culminating in the campus tour, along with lunch and activities between pen pals.
"Some of these students never have the opportunity to physically write and read letters to hone their communication skills," says Tuschl. And the Graduate School mentors "are able to encourage these sixth graders to find their dreams, hopes and wishes."
Andrews was overwhelmed by the responsiveness of her fellow Graduate School students. "Some would make handwritten cards with drawings, and they would sometimes include little trinkets like Pokemon cards," she says. "The pen pals developed nicknames for each other. It touches my heart."
The diverse membership of the GSC was an important factor in its participation with a middle school whose children represent 26 countries. Wright has a large immigrant population. During the tour the Wright students heard presentations about numerous educational opportunities on campus, learned about Vanderbilt LifeFlight, toured the Eskind Biomedical Library, and visited a lab for a demonstration by Vanderbilt Student Volunteers for Science.
An upcoming project has about 50 Graduate School students engaged in helping Wright students improve the quality of their science-fair entries.