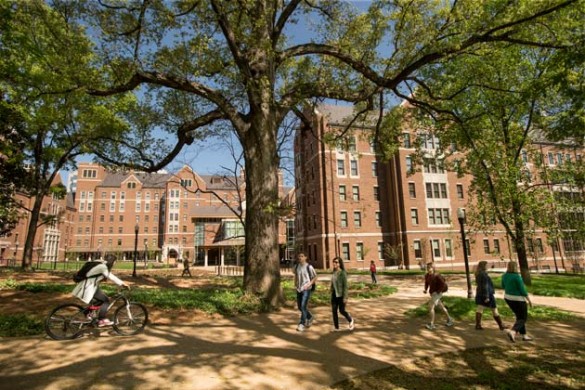 Vanderbilt faculty, staff and students will have the opportunity to get a firsthand look at Warren and Moore colleges at a series of open houses scheduled in June and July. The new colleges are the latest of Vanderbilt's residential options and the first to expand the residential college model, which began at The Martha Rivers Ingram Commons, to central campus.
The Kissam Center and representative student rooms and suites will be part of the tour, and Vanderbilt Campus Dining will provide light refreshments in the Kissam Market.
The colleges will open this fall welcoming a mix of sophomores, juniors and seniors. Warren and Moore are designed to convey the ambiance of a small college community for students who span years and majors, while still affording them an education at a world-class research university with a wide variety of undergraduate academic programs.
Two award-winning faculty members will lead the new colleges and live among the students in faculty apartments within Warren and Moore. Jim Lovensheimer, associate professor of musicology, will be faculty director for Moore College, and Doug Fisher, associate professor of computer science and computer and electrical engineering, will serve as faculty director for Warren College.
The open houses are scheduled as follows:
Wednesday, June 18, 3–5 p.m.

Wednesday, July 2, 3–5 p.m.
Wednesday, July 23, 3–5 p.m.