Media Inquiries
Latest Stories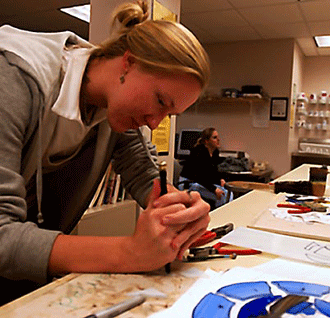 Sarratt Art Studios has hired new instructors, designed new classes and revamped its schedule for the fall 2014 semester.
Since the mid-1970s, Sarratt Art Studios has offered non-credit studio classes to Vanderbilt students, faculty, staff and members of the Nashville community.  These classes meet once a week for two hours each session, and many of the tools and supplies are provided through an affordable lab fee. The schedule offers art courses at 11:30 a.m., 3 p.m. and 6 p.m. Tuition rates are affordable, and the classes are taught by some of the finest artist-educators at Vanderbilt and from the Nashville area.
Visit the Sarratt Art Studios website and make note of these exciting changes:
Most classes have been extended to 12 weeks. This allows students more time to explore new techniques and finish projects. Instructors have revamped their syllabi to introduce new lessons.

Digital Photography and Graphic Design classes are now six weeks, providing the opportunity to start classes at the beginning of the fall session, or to start in the middle of the semester.
New courses this fall include Paper Making Studio, Secrets of Shibori and Indigo Dye, Introduction to Printmaking and a six-week course called Introduction to Jewelry. Along with new courses, Sarratt Art Studios will offer an additional beginning pottery class and bring back Drawing Fundamentals and the book arts course. Jewelry classes have been retitled Metal Smithing to include vessel making and sculpture.
Registration is now completely online – no more standing in line to register.
Sarratt Art Studios is pleased to welcome the following new instructors: Gail Looper, Andie Gay, John Toomey, Ashleigh Jervis and Allison Jarrett.
Online registration begins July 1, and fall classes will begin the week of Aug. 25. To learn more about fall class offerings, visit the website for schedules, course descriptions and prices.
Contact: David Heustess, (615) 343-0491
david.f.heustess@vanderbilt.edu