Media Inquiries
Latest Stories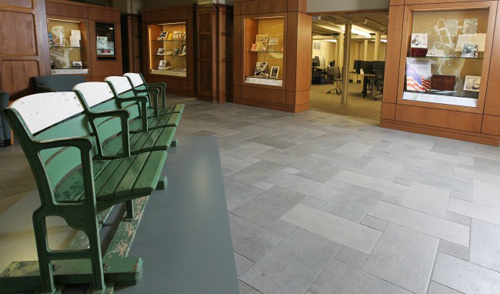 "Fight for Freedom," a new exhibition at Vanderbilt University's Central Library, highlights inspiring American stories from the collections of the Rev. James Lawson, noted journalists and others who put their lives on the line for freedom.
Items range from Federalist Papers dating back to the American Revolution through recent memorabilia of the Occupy Nashville protests.
"[rquote]We hope the community will be inspired by the legacy of those who struggled and sacrificed to ensure civil rights and equality with the hope of making ours a better world,"[/rquote] said Connie Vinita Dowell, dean of libraries. "In many cases, we would not have seen this part of history as it developed without the bravery of the journalists who witnessed and documented it."
Lawson's collection has a wealth of rich information on the civil rights movement and the assassination of Martin Luther King Jr., including the Memphis sanitation workers' strike and a death threat against Lawson in the form of a greeting card, according to Celia Walker, director of special projects. "The card said Lawson would be next," Walker said.
Among the more unusual items on the Central Library's fourth floor is a row of original stadium seats from Sulphur Dell, former home to the Nashville Vols minor league baseball team from 1901 to 1963. A new ballpark for the Nashville Sounds is now under construction on that North Nashville property.
"At Sulphur Dell, fans remained segregated, with the black section of seating down the baseline, away from the best seats in the house," said Kathy Smith, associate university archivist. "These seats were not covered by the roof, evidence that racial disparity in baseball continued in the 1960s." The seats are on loan from the Metropolitan Nashville Government Archives.
Other exhibition themes are freedom of the press and freedom of speech. "We found contrasting styles of design in right- and left-wing publications," Smith said. "The Rose Christenson Collection has glossy publications from the John Birch Society with plenty of facts and figures geared toward conservative business people. Meanwhile, the Leslie Everett Long Papers contain Uncle Sham and other underground comic books, which use humor to convey their left-leaning messages."
Exhibition items also were drawn from the papers of noted journalists that include Julian Goodman, an NBC broadcast pioneer who was a strong advocate for freedom of the press; James Squires, author of The Secrets of the Hopewell Box: Stolen Elections, Southern Politics and a City's Coming of Age; and former Tennessean photographer Jack Corn. One of Corn's photos, which illustrated the poverty and desolation of Appalachia long before the Internet, was used by then-President Lyndon Johnson to build support for his War on Poverty.
"Fight for Freedom" will remain on display through April 2015. Visit Central Library Hours for a schedule of when the library is open to the public.