Media Inquiries
Latest Stories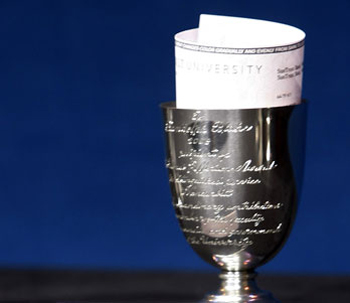 Faculty may submit nominations for the Thomas Jefferson Award, given to a Vanderbilt faculty member for distinguished service through extraordinary contributions in the councils and governance of the university, now through July 25. Chancellor Nicholas S. Zeppos will present the award to the selected recipient at the 2014 Fall Faculty Assembly, scheduled for Thursday, Aug. 21, in the Student Life Center ballrooms.
The Thomas Jefferson Award is among several faculty honors traditionally awarded at the annual Fall Faculty Assembly. Others include the Chancellor's Awards for Research and the Earl Sutherland Prize for Achievement in Research. The deadlines to submit nominations for these awards have already passed.
The Thomas Jefferson Award recognizes a faculty member who has devoted his or her time and talents to strengthening Vanderbilt's mission through service to the university. Each letter of nomination should include a copy of the nominee's current curriculum vitae and be sent electronically, by email attachment, to andrea.c.hewitt@vanderbilt.edu, copying the nominee's department chair as well as the dean of the nominee's school or college. Previous recipients of the award are not eligible for nomination.
The deadline to receive nominations is 5 p.m. Friday, July 25, 2014.
"The dedicated efforts of great faculty guiding and shaping our university through governance and service on councils are constants that abide and span the decades," Zeppos said. "I appreciate your help in identifying your colleagues who should be considered for this award."
Questions regarding the Thomas Jefferson Award or the nomination process should be directed to Andrea Hewitt in the Faculty Senate office at 343-3841 or andrea.c.hewitt@vanderbilt.edu.