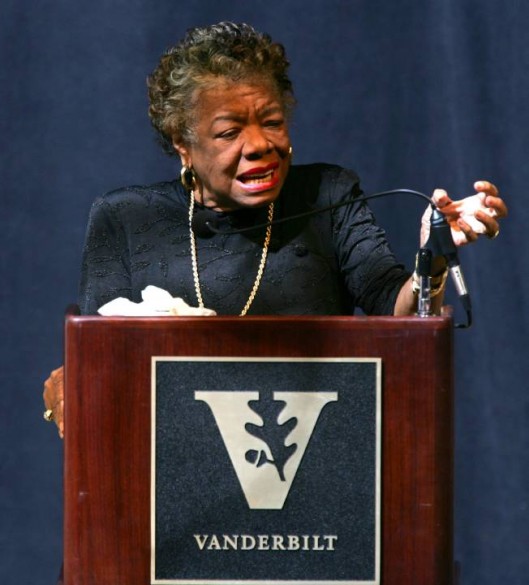 Maya Angelou spoke at Vanderbilt in 2006. "Vanderbilt is a rainbow in a cloud," she said. Read more about her talk »

Alice Randall: This is a breathtaking loss for American letters. Maya Angelou's autobiography, I know Why the Caged Bird Sings, is one of the most important autobiographies in American literature. It changed not only our understanding of how autobiography could be written, but who the worthy subject of an autobiography could be. Her range was extraordinary. Working in poetry, autobiography, song, and even publishing a memorable cookbook that is taught at Vanderbilt, Maya Angelou created a body of work that engaged a diverse group of readers including the very young and the very old. Her collaboration with Basquiat on the picture book Life Doesn't Frighten Mehas become a modern classic that has introduced very young readers around the globe to the power of language while reminding adults of the significance of fearless seeing. At once cosmopolitan yet ever rooted to Stamps, Arkansas, she saw and told a world that was ever shared and all her own.
Alice Randall is a Vanderbilt writer-in-residence with appointments in African American and Diaspora Studies and English. Her books include The Wind Done Gone, Pushkin and the Queen of Spades, Rebel Yell, and Ada's Rules.
---

Emilie M. Townes: The gift that Maya Angelou gave to so many of us was to encourage us to use our voices to speak truth with as much clarity and passion as possible. There are times when circumstances are unfair and maybe even violent. Angelou taught me that I could not ignore or avoid this. But it was important to never give up on hope and a tragedy to live my life in despair. Her ability to tease through her life as an offering of possibilities was and is a very American story.
Emilie M. Townes is dean of Vanderbilt Divinity School and the E. Rhodes and Leona B. Carpenter Professor of Womanist Ethics and Society. Her books include the groundbreaking Womanist Ethics and The Cultural Production of Evil.
---

Tiffany Ruby Patterson: Maya Angelou was one of our national treasures. Born Marguerite Ann Johnson in 1928 in St. Louis, Missouri, she was sent to live with her grandmother in Stamps, Arkansas, after a brutal assault at the age of seven. Nurtured in the warmth of her family and Stamps, she found the strength to turn pain into triumph, a journey chronicled in her most famous autobiography, I Know Why the Caged Bird Sings, published in 1969. She mastered many forms of expression: autobiographies, poetry, essays and plays. A dancer, actress and singer, she found time to work for social and economic justice in the United States and Africa. She devoted her final years to educating the young as a college professor. She leaves us with a legacy of love, compassion and generosity. We can honor her by emulating her example.
Tiffany Ruby Patterson is an associate professor of African American and Diaspora Studies, history and American Studies. She is the author of Zora Neale Hurston and a History of Southern Life.