Media Inquiries
Latest Stories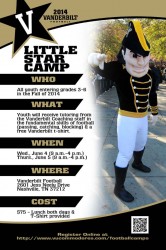 Vanderbilt University faculty and staff are eligible for a discounted price on the Little Star summer youth football camp June 4-5. The camp is for rising third- to sixth-graders, and costs $75.
All Vanderbilt employees can receive a 15 percent discount off the total price.
Little Star camp features top notch and quality instruction from the Vanderbilt Football staff. Participants will learn the fundamental skills of football—tackling, passing, catching and blocking.
Boys and girls welcome. They will be coached by some of the best in the country.
Camp hours are 9 a.m.–4 p.m. Lunch will be provided on both days and each child will receive a T-shirt at the end of camp.
Register online and claim your discount now.
You can also download our camp brochure, medical forms and liability waiver.
CONTACT: Matt Ruland, matt.ruland@vanderbilt.edu
(301) 641-7466