"In the years to come, you are certain to know many more moments of happiness and well-earned achievement, but it is also the case that you will experience your share of challenges, unexpected changes, experiments, curious outcomes and yes, indeed, disappointments," Zeppos told nearly 2,900 graduates in Memorial Gym, where the ceremony was moved from Alumni Lawn because of rain.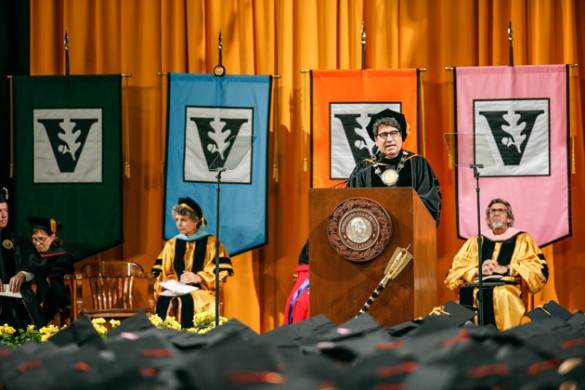 All the lessons needed for rich and satisfying lives are symbolized on the verdant Vanderbilt campus where graduates gathered for Commencement, said Chancellor Nicholas S. Zeppos.
"As I look out at all of you … I am reminded of several important lessons that Vanderbilt makes visible to me and reminds me to learn anew every day."
View photos of Commencement day >>
The chancellor said that graduates should be as resilient as the trees on Vanderbilt's 330 acres, inspired to serve others by the service of the World War I soldiers for whom Alumni Hall is named, and able to change with the times like Neely Auditorium, which has been a chapel, an auditorium and a theater over its 89-year history.
"Remember our buildings not only for their architectural distinction, or just for the time you spent inside of them, but remember them especially for the lessons they teach about the value of opening wider the doors of opportunity," Zeppos said. "[rquote]Buildings are only as beautiful as the people they welcome inside and the opportunities they create for those who enter their doors."[/rquote]
Vanderbilt Divinity School reminds him of the necessity of admitting when you're wrong and making amends, Zeppos said. That's because of the 1960 expulsion of Divinity School student James Lawson for his role in the civil rights movement. After much dissention on campus, a compromise was reached that allowed Lawson to receive his degree, but Vanderbilt only truly made amends decades later when it named Lawson its Distinguished Alumnus of the Year, established a teaching chair in his honor, and welcomed him back as a teacher from 2006 to 2009.
"Every day I pass by the Vanderbilt Divinity School, I remember this chapter in our history and the important lessons it teaches us about courage, repentance and forgiveness," Zeppos said.
The Commencement ceremony capped two days of activities for graduates and their guests. Events included a speech by former surgeon general Regina M. Benjamin; educational seminars by faculty; and separate ceremonies by each of Vanderbilt's 10 schools, at which students were awarded their degrees.
Degrees were awarded to 1,662 undergraduates and 2,101 graduate and professional students. The top students in each school were awarded Founder's Medals.