Watch live video of Senior Day, Commencement May 8-9
May. 7, 2014, 4:44 PM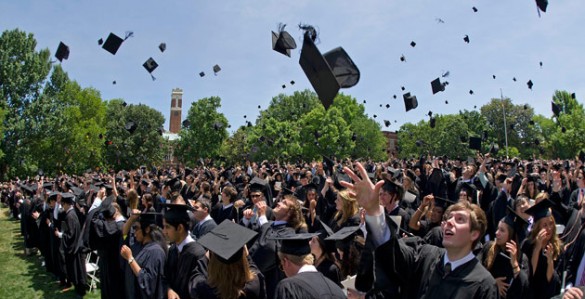 Chancellor Nicholas S. Zeppos will give the traditional address to Vanderbilt graduating students during Commencement ceremonies Friday, May 9, preceded by a speech from former surgeon general Regina M. Benjamin, who will appear at Senior Day on Thursday, May 8.
Senior Day will be held at 11 a.m. in Memorial Gym, where Benjamin also will receive the Nichols-Chancellor's Medal, one of the university's highest honors, which includes a cash award. Watch a live webcast of Senior Day starting at 11 a.m. at http://www.vanderbilt.edu.
Commencement ceremonies will begin at 9 a.m. on Friday on Alumni Lawn. Undergraduates will receive their degrees after the chancellor's address, while graduate and professional students will adjourn for their own degree ceremonies at about 10:15 a.m. About 2,900 graduates are expected to attend Commencement.
The ceremony on Alumni Lawn will be webcast live Friday starting at 9 a.m. at http://www.vanderbilt.edu.