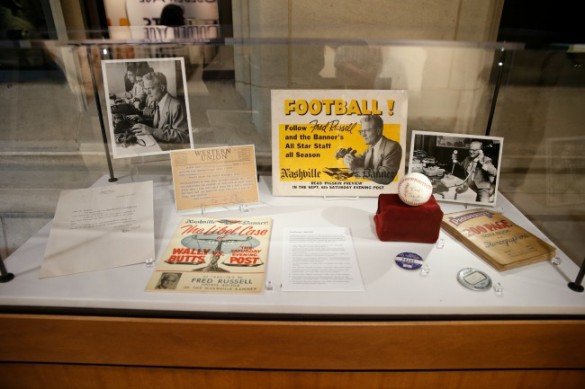 Vanderbilt Libraries pay tribute to two renowned sports writers who were Vanderbilt alumni and longtime colleagues in "The Golden Age of Sports Journalism: Grantland Rice and Fred Russell."
The exhibit, which is free and open to the public, is on display on the Vanderbilt Central Library's second floor, adjacent to Special Collections.
"[rquote]We are pleased to spotlight Fred Russell and Grantland Rice, two beloved alumni whose uplifting journalistic style focused on the positive aspects of the fans, athletes and teams that they covered,"[/rquote] said Connie Vinita Dowell, dean of libraries.
Rice, who studied Greek and Latin, earned his bachelor of arts degree from the College of Arts and Science in 1901. He was a prominent sports writer, columnist and poet during the first half of the 20th century. A popular sports and pop culture blog called Grantland.com, established in 2011, continues to honor Rice's legacy with contributions from highly respected sportswriters.
Rice's poetry includes "Alumni Football," which ends with the lines: "For when the One Great Scorer comes to write against your name, He marks not that you won or lost, but how you played the game." The last typewriter used by Rice is included in his collection and the exhibition.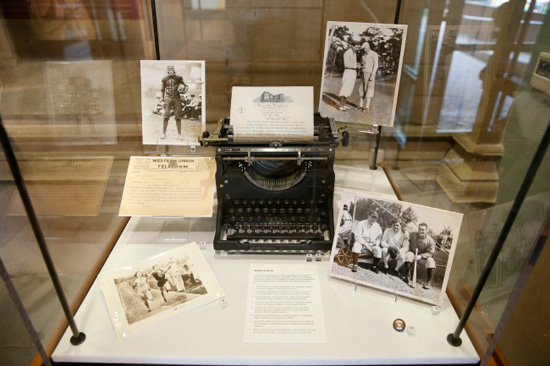 Russell, who was in the Vanderbilt Law Class of 1927, covered sports for the Nashville Banner from 1929 until the paper closed in 1998. Russell penned more than 12,000 columns and interviewed numerous sports legends, including Babe Ruth, Jack Dempsey, Ty Cobb and Muhammad Ali. Among the books he wrote was his autobiography, Bury Me in an Old Press Box: Good Times and Life of a Sportswriter.
Olympic history and the athlete as hero are important themes in the exhibition, as both men reported on several of these international competitions. A rare silent film from the Russell Collection highlights the 1936 Olympics in Berlin. "Adolph Hitler was intent on Germany hosting the Olympics to show how Germany had rebounded after World War I and the Depression," said Kathy Smith, associate director for Special Collections and University Archives. "The film begins with the lighting of the Olympic torch and includes a race with American track and field legend Jesse Owens, who won four gold medals that year."
The exhibition also includes coverage from the 1972 Olympics, where Russell turned from a sports journalist to a breaking news reporter during the Munich Massacre. The tragedy involved 11 Israeli athletes being taken hostage and murdered by Palestinian gunmen from the Black September group. "Russell went from covering hurdles and who was winning the shot put to relaying the latest on life-and-death situations," Smith noted.
Also on display is a baseball inscribed to Russell from former Major League Baseball Commissioner Peter Ueberroth and one signed by Larry Schmittou, president and general manager of the Nashville Sounds baseball club from 1978 to 1997. That baseball and other Sounds memorabilia have been culled from U.S. Sen. Lamar Alexander's Papers. Schmittou is a 1962 graduate of Peabody College.
In 1956, the Thoroughbred Racing Association established the TRA-Grantland Rice Memorial Scholarship in Sports Journalism at Vanderbilt to honor Rice's legacy. Three decades later the name of the scholarship was changed to include Russell, a protégé of Rice's. The legacies of these two sports journalists live on through the Fred Russell-Grantland Rice Scholarship, which provides a partial tuition scholarship to Vanderbilt students interested in pursuing a career in sports journalism.
Rice's accomplishments are also being honored on campus through the naming of Rice Hall, located within Moore College. Moore is one of the two new residential colleges opening fall 2014.
"The Golden Age of Sports Journalism: Grantland Rice and Fred Russell" will remain on display through April 20, 2015. For a schedule of the library's public hours, visit Central Library Hours.