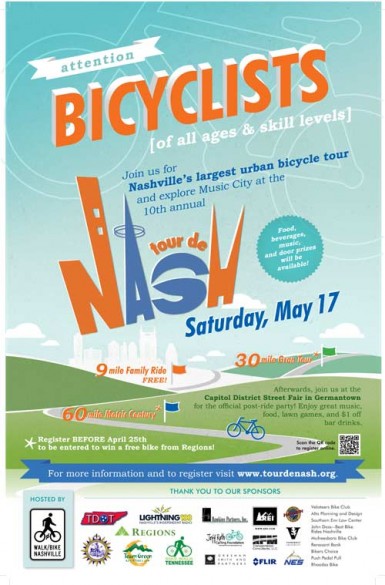 Attention bicyclists of all ages and skill levels: Nashville's largest urban bicycle tour, the 10th Annual Tour De Nash, takes place Saturday, May 17. Food, beverages, music and door prizes will be available. Choose your route:
Afterward, gather at the Capitol District Street Fair in Germantown for an official post-ride party. Enjoy great music, food, lawn games and $1-off bar drinks.
In addition, the third annual Tennessee Bike Summit, which brings together advocates, engineers, planners and business owners to learn best practices for advancing cycling in our state, takes place May 14-17.
Register for the Third Annual Tennessee Bike Summit.
Contact: Mary Pat Teague, marypat.teague@vanderbilt.edu