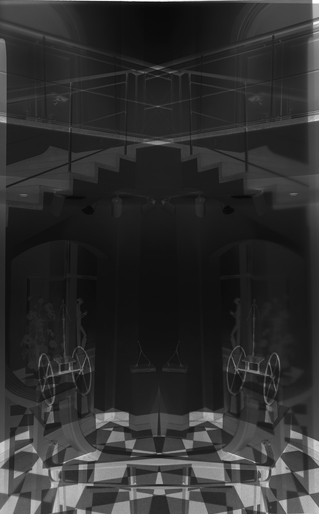 An installation by Vesna Pavlović, assistant professor of art at Vanderbilt, will open May 22 at The Phillips Collection in Washington, D.C.
Using documentary materials sourced from The Phillips Collection's library and archives, Pavlović examines the museum's history of exhibition and display in the new installation Illuminated Archive. The installation features a 20-foot translucent curtain printed with digitally manipulated images and two related c-prints that explore the idea of transparency, both photographic and historic. Pavlović's work is part of The Phillips Collection's ongoing Intersections series, a project highlighting contemporary art and artists in conversation with the museum's permanent collection and archives.
Pavlović works primarily with projected images, with an aim to expand the viewer's perception and experience with photographic images beyond their frames. Her photo-based installations focus on representations of social groups, collective memories, and places that are historically and politically charged. Much of the artist's work explores aspects of the photographic medium as both an archival documentation of materials and as a new digital technology.
"I use transparency as a connecting element to tie together history, museum collection and documentation, and the representation of the photographic medium itself," she said. "For my Intersections project, I looked for ways to connect the museum's archive with its architectural space, addressing the collection beyond the traditional archival format."
On a weeklong research visit to the Phillips last fall, Pavlović examined exhibition photographs from the 1960s to discover how the museum's archive reflects its history. She found that the archive exposes the sensibility of the collection and reveals aesthetic choices made in past installations.
Finding that several of the photographs depict galleries with curtains as a design and display element, Pavlović was inspired to use sheer fabric in her own installation, not only to "break" the image over the curtain's folds but also to allude to transparency  of historic material. The curtain will hang inside the museum's Sant Building stairwell.
"We are used to seeing exhibitions on walls. Curtains offer a different experience of space, connecting to the overall architecture and interior design of The Phillips Collection," Pavlović said. "The viewing experience is heightened  through the theatricality of perceiving images in space."
Pavlović has exhibited widely, including solo shows at the Frist Center for the Visual Arts in Nashville; the Museum of History of Yugoslavia; the salon of the Museum of Contemporary Art in Belgrade, Serbia; and the Crocker Art Museum in Sacramento, California. Her work is included in major private and public art collections, including The Phillips Collection and the Hirshhorn Museum and Sculpture Garden at The Smithsonian in Washington, D.C.
Illuminated Archive is on view at The Phillips Collection from May 22 to Sept. 28, 2014. Pavlović will give an artist's perspective on her installation at the Phillips on May 22 at 6:30 p.m.
Contact: Elizabeth Lubben, (202) 387-2151 ext. 235
elubben@phillipscollection.org