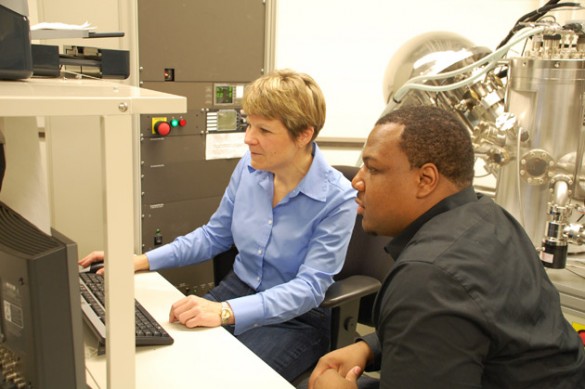 Marc Panu became a YouTube sensation after a video captured Vanderbilt's then-football coach awarding the three-year walk-on athlete with a senior scholarship in 2012. The chemical and biomolecular engineering major's hard work has distinguished him in the research lab as well.
"I wasn't able to do much in the way of extracurricular activities while I was a student-athlete, so I couldn't pass up the opportunity to do research once I was done with football," said Panu, an Atlanta native who is collecting minors in engineering management and corporate strategy. "[rquote]Although I could have graduated last May, I decided to spend a fifth year pursuing my research interests, diversifying my academic portfolio and being an active member of the campus community."[/rquote]
Panu is interested in solving practical engineering problems, particularly those related to the oil and gas industries and to sustainable energy advances. He's collaborated with Associate Professor Bridget Rogers, whose research group in chemical engineering creates materials and structures using thin film processing techniques and combustion synthesis. Panu authored a paper about processes for optimizing the color of white light in solid-state lighting that won the top award for Region 3 of the National Society of Black Engineers.
"A majority of the energy dissipated in incandescent lighting is in the form of heat rather than light. To remedy this problem, scientists and engineers have been seriously investigating solid-state lighting for the past decade because it provides an energy-efficient alternative," Panu explained.
"I love to figure things out," he said. "I had been content figuring out how to solve problems on paper until I became an undergraduate researcher. It's a world where equations and numbers aren't necessarily the end product, but simply vehicles used to solve real problems and make real products. This, to me, is the true essence of engineering."