A last-minute decision to sign up for a film production class changed the trajectory of Harvey Burrell's life. By the time the Martha's Vineyard, Mass., native graduated high school in 2009, he and two friends had launched their own company, now called Windy Films. Five years into the venture, the group has produced award-winning work for a growing roster of clients, including Harvard University, Apple and Jaguar.
Their latest project is also their most ambitious: an inspirational feature-length documentary called Endless Abilities. Shot during spring 2012, the work follows the filmmakers and their friend Zach Bastian, who was paralyzed from the waist down as the result of a dirt bike accident, on a six-week, 4,000-mile minibus journey from Rhode Island to Southern California. Along the way they discover people with disabilities who are living active lives through adaptive sporting—sports modified to meet the needs of people with disabilities—from surfing and rock climbing to skiing and ice hockey.
"Adaptive sporting is the new civil rights issue for our era," said Burrell, who directed the film and has received a commendation from the state of Rhode Island for his work on behalf of those with physical disabilities. "Our film shows people—whether they're paralyzed, blind or have lost limbs—that they can be active again, regardless of where they live, as part of a growing community of athletes."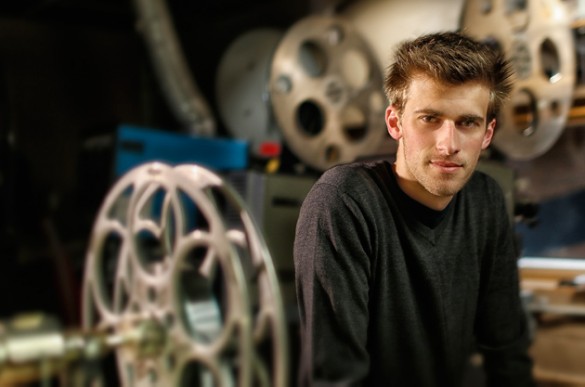 Burrell, an economics and film theory major and Curb Scholar at Vanderbilt, has created a media lab at the Curb Center for Art, Enterprise and Public Policy. The facility—equipped with lights, cameras, screens, a projector and studio and post-production space—is open to any student, regardless of major, who has an idea and is serious about making it happen.
"It's a place for students to work in film, media, advertising—however they see fit. A place divorced from GPAs and class deadlines, where they can watch cuts of film or plan shoots they're going to do," he said. "It's very Spartan, but it works very, very well."
After graduation, Burrell will rejoin his partners at Windy Films and anticipate the release of Endless Abilities online, on DVD and Blu-ray. To watch the film's trailer, visit endlessabilities.org.