Faculty-Staff Campaign co-chairs show gratitude by giving back
Apr. 29, 2014, 10:43 AM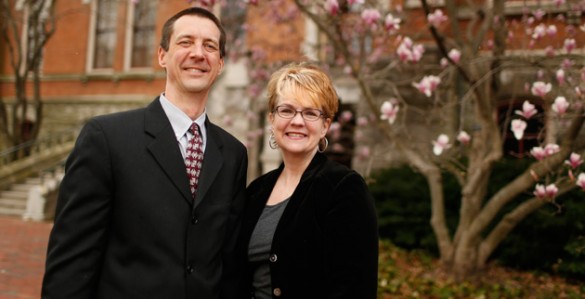 Seven years ago, Faculty-Staff Campaign co-chairs Vanessa and Trey Beasley never imagined they would find themselves back at Vanderbilt.
The college sweethearts graduated from the university in 1988 and thought their days on campus ended when they walked across the stage at Commencement. By early 2007, Vanessa was happy to be on faculty at a top-ranked doctoral program in communication at the University of Georgia, and Trey was traveling the country with a successful career in corporate finance.
Professionally, they seemed on top of the world. Personally, they were struggling with the heartache that came with their then-4-year-old son's undiagnosed illness.
"Our youngest son, Charlie, was born with a rare medical condition that perplexed doctors for years," said Trey, who now serves as Vanderbilt's assistant vice chancellor for treasury and university treasurer. "I vividly remember the day we thought we were going to lose him. The doctors had no answers. I thought I was going to have to say goodbye to my son."
Soon after, Vanessa received a call from Vanderbilt informing her of an opening within its communication studies faculty in the College of Arts and Science, the same department from which she received her undergraduate degree.
"At first, Trey and I were hesitant to consider this," she said. "With our son being so ill and extended family support in Georgia, it didn't make sense to uproot our family. Plus, our older son, Adam, was close to being a teenager, and we didn't want him to have to change schools again. Then it occurred to us that we'd have access to some of the world's top pediatric doctors at the Monroe Carell Jr. Children's Hospital at Vanderbilt. I called back three days later and said I would apply."
Trey and Vanessa, now associate professor of communication studies at Vanderbilt and director of the interdisciplinary program in American studies, never looked back. Not only did they find a home at Vanderbilt, they also found answers regarding their younger son's illness. In 2010, after Charlie spent a week in the Pediatric Epilepsy Monitoring Unit, Children's Hospital doctors found a life-changing medicinal solution to help mitigate the frequency of his seizures, which are associated with Greig syndrome, a very rare genetic disorder he was diagnosed with in 2007.
"Charlie brought us back to Vanderbilt, but it's the community of support that's kept us here for more than seven years," Vanessa said. "We give back financially to say thank you—for the peace of mind that comes with having our child receive care at Children's Hospital as well as the incredible community of faculty, staff, students and friends we have found here."
The Beasleys hope other university faculty and staff join them in giving back to Vanderbilt in an effort to meet this year's goal of raising at least $1.1 million by June 30. Faculty and staff can support a variety of areas to further Vanderbilt's cutting-edge research, world-class teaching and quality patient care.
"I give back to three areas of the university—the College of Arts and Science, the Divinity School and the Children's Hospital—because my heart is in those three places," Vanessa said.
Each gift is important and allows the university to meet emerging needs and opportunities. The couple encourages colleagues to give to the areas that are most meaningful to them.
"Giving back is another way for us all to be fully engaged in the mission of the university," Trey said. "It's a way for us to personally invest in the teaching, research and service that make Vanderbilt such a distinct university atmosphere in which to work."
Gifts of any size to any Vanderbilt area, made by university faculty and staff from July 1, 2013, to June 30, 2014, count toward the 2014 Faculty-Staff Campaign. Learn more about the campaign and how to make your gift at giving.vanderbilt.edu/faculty-staff.
by Nicole Smith