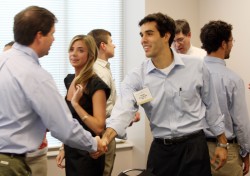 The Vanderbilt Alumni Association is proud to recognize more than 500 volunteers who have made an impact through our Student-Alumni Programs. Through these campus programs, students and alumni connect about their shared Vanderbilt experiences and the many paths a Vanderbilt degree offers. Programs range from "Opening Dores" advice dinners and industry panels to Student Alumni Board networking events and community service opportunities.
Many of our volunteers are involved in several programs, and we thank you all for your dedication in sharing your time and thoughtful advice with the next generation of Commodores.
View a list of Student-Alumni Program volunteers
Learn more about our Student-Alumni Programs.
"Through the Opening Dores dinner program, I met a talented student who became my intern during her senior year. Since that time, we have remained connected and I have been honored to serve as a reference for her during the early stages of her career advancement. As someone who has had many valuable mentors, I am overjoyed to pay it forward as an alumna. My perspective certainly continues to evolve as my own career progresses, and I hope that by sharing those insights, I am able to make Vanderbilt students feel more comfortable with the unknowns that lie ahead of them." – Gabrielle Hannafan, BA'05