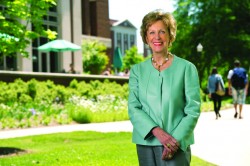 Nashville philanthropist and Vanderbilt Board of Trust Chairman Emerita Martha Ingram will be the next guest in Barnes & Noble at Vanderbilt's Stronger Arts/Stronger Cities series.
Ingram will be interviewed on Thursday, May 15, at 7 p.m. at Barnes & Noble at Vanderbilt. The event is free and open to the public
Stronger Arts/Stronger Cities aims to highlight and advocate the importance of all forms of local art. The forum is a one-hour talk with local civic and arts leaders using their three favorite books to frame a discussion about Nashville's arts community and their role within it.
The talks are recorded for later broadcast by NECAT, the organization that oversees Nashville's public access arts and education programming, Comcast channels 9, 10 and 19.
Learn more at www.Facebook.com/VanderbiltBooks.
Contact: John Lasiter, (615) 414-4870
john.lasiter@vanderbilt.edu