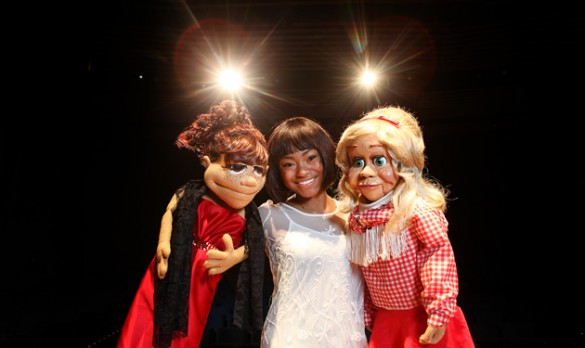 Megan Piphus dreams of stardom, but more importantly, success. The Cincinnati native, a musical ventriloquist, was featured on The Oprah Show as a teenager. Her high school graduation speech, which featured her puppet George, has been viewed nearly 120,000 times on YouTube and earned her the designation "Valedictorian Ventriloquist."
The economics major and Cornelius Vanderbilt Scholar has also made her mark on campus. She started as a reporter for Vanderbilt Television then did field reporting for ESPNU. She became a resident adviser and continued her Color My Dream program, which uses mentoring, ventriloquism, puppetry and music to encourage youth to reach for their dreams. In 2012 she was crowned Miss Black Tennessee, which allowed her to meet people across the state, and appeared on The Tonight Show. In 2013, she landed a spot on America's Got Talent.
Luck? Try hard work. During her Vanderbilt career, she's had four entertainment business internships. During her America's Got Talent run, she earned yeses from all four judges in the regional competition but did not last long at the national level. "There's good that comes from rejection," Piphus said. "It's normal and expected in this field. You just have to be constantly improving.
"Vanderbilt has been a great experience for me," she said. "I wouldn't have had all these experiences anywhere else."