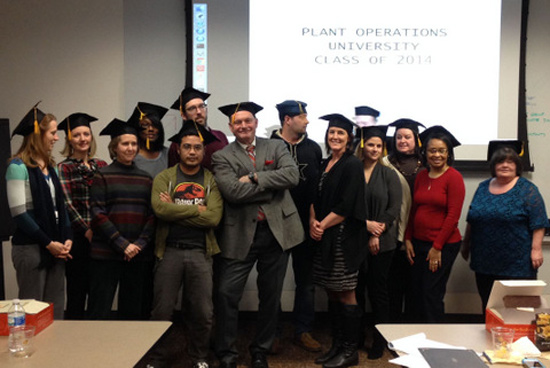 For nearly a year, the Department of Plant Operations has been offering "Plant Operations University," a six-week, 12-hour overview of how Vanderbilt works—literally.
The classes are designed for non-experts, and attendees range from building managers to department administrative assistants to university administrators. The course consists of six two-hour lunchtime classes. A box lunch is provided.
Classes begin with an introduction to Plant Ops systems, policies and procedures, including how to request safety training, submit work orders and understand charges.
Then attendees dive deeper into the various services and functions of Plant Operations. They begin with a review of the basics, such as electricity, plumbing and how HVACs and the cogeneration power plant work before moving on to an overview of building systems and energy conservation.
The next class, covering building services and grounds, discusses various maintenance topics, including housekeeping, trash removal, floor care and groundskeeping.
The course then moves into the less well-known ancillary functions of Plant Operations, such as vehicle maintenance, key cards, signage installation and maintenance, moving services and pest control.
Plant Ops U concludes with an overview of renovation and construction projects, as well as an introduction to SustainVU, Vanderbilt's sustainability office.
Each class is team-taught by Plant Ops managers and directors who are leaders in their areas of expertise.
People interested in attending should contact Gloria Smith at (615) 815-9138 for registration. The next course begins May 12.