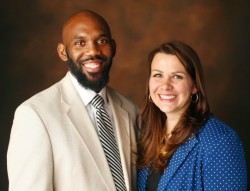 The Rev. Lillian Hallstrand and the Rev. Niger Amin Woodruff have joined Vanderbilt Divinity School's Office of Admissions, Vocation and Stewardship in new positions to provide increased guidance to current as well as prospective students.
Hallstrand, whose position is funded through Lilly Endowment Inc., is director of stewardship and vocational planning. Woodruff is assistant director of admissions and vocational discernment.
Hallstrand will lead the development of a financial and career coaching network for all new and returning divinity students beginning fall 2014. "I plan to explore creative partnerships with Vanderbilt alumni who work in denominations and other fields of interest to Vanderbilt Divinity students as well as engage mentors with expertise in financial planning for religious leaders," she said.
Hallstrand, a native of Chicago, most recently served as a chaplain and as the bereavement coordinator at Vanderbilt University Medical Center. She earned a master of divinity from Vanderbilt in 2009. She also received a master of science in college student personnel from the University of Tennessee.
Before moving to Nashville, she served as the director of Greek Life and Orientation Program coordinator at Baldwin-Wallace University. She also has been an academic and career services adviser at the Cornell University School of Hotel Administration. Hallstrand is ordained in the United Church of Christ.
Woodruff earned a master of divinity in 2011 from Vanderbilt, where he was the recipient of the Florence Conwell Prize in recognition of outstanding accomplishments in preaching. Prior to returning to Vanderbilt, Woodruff was a pastor with the Tennessee Conference of the United Methodist Church. He also ministered as an elementary educator in North Alabama.
"I look forward to meeting with prospective students to help them discern a vocational path that will lead them to change the world," said Woodruff, whose interests revolve around religion, race and culture.
Visit Vanderbilt Divinity School for more information on its mission and programs.