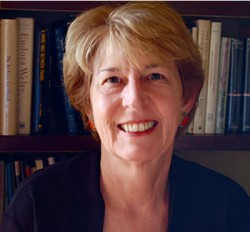 Connie Vinita Dowell, Vanderbilt University's first dean of libraries, who worked tirelessly to expand the library system's mission, modernize its facilities and services, and create a welcoming and engaging environment, will retire July 31, Provost and Vice Chancellor for Academic Affairs Richard McCarty announced.
"Connie has been a terrific colleague and friend, and she has done amazing things to enhance our libraries," McCarty said. "She developed the plans to renovate the Central Library into a popular destination on campus for scholarship, studying and small group projects, tour group visits and events for the broader public."
Dowell returned in 2009 to the campus where she had earned her master of library science from Vanderbilt's Peabody College.
In her message to library staff April 8, she said, "I owe my career to this institution, and I am so honored to end my career here. This experience has produced memories that are even more treasured than those of my earlier time here as a student. They are the best possible gift anyone could take into retirement. I will not be leaving Vanderbilt, only my position as dean of libraries."
She added that she and her husband "will forever be supporters of this very special university and this library."
During her nearly six years at Vanderbilt, Dowell oversaw an extensive $6 million renovation of the Central Library, making it notably more user-friendly. She changed policy to allow food and drink in the library system and opened a café, Food for Thought, in the Central Library.
"Our libraries should be as welcoming and comfortable as possible," Dowell said about allowing food and drink. "For our students who often study late into the evening, this is an especially important policy change."
Under Dowell's leadership, the libraries began loaning out iPad2s because of student demand and added an outdoor exhibit to promote exhibits and other library happenings to the community.
The Central Library was awarded gold certification for its environmentally friendly renovation from the U.S. Green Building Council's Leadership in Energy and Environmental Design (LEED) Green Building Rating System. It was the first Vanderbilt campus renovation to achieve that honor.
Also during Dowell's tenure, the library's Special Collections acquired significant donations, including the pre-Senate papers of former Tennessee governor and now-Sen. Lamar Alexander, as well as those of former senator and ambassador to China Jim Sasser and civil rights leader James Lawson. Public exhibits and panel discussions, many of them associated with newly acquired as well as long-held collections, such as those of award-winning Hollywood director and Vanderbilt alumnus Delbert Mann and First Amendment Center founder John Seigenthaler , became commonplace.
Before returning to Vanderbilt, Dowell spent a decade at San Diego State University as dean of library and information access. Prior to that, she was vice president for information services, chief information officer and librarian at Connecticut College.
Dowell's honors include three John Cotton Dana Public Relations Awards from the American Library Association and the SirsiDynix-American Library Association-Allied Professional Association Award for Outstanding Achievement in Promoting Salaries and Status for Library Workers. In 2012, Vanderbilt University's TV News Archive received the Governor's Award for Lifetime Achievement from the MidSouth Chapter of the National Academy of Television Arts and Sciences.
"Connie has also recruited a stellar group of senior leaders for our library system, and they are doing great things," McCarty said.
Jody Combs, associate dean of libraries, will serve as interim dean of libraries from Aug. 1 through June 30, 2015. A search for Dowell's successor will be launched during the fall 2014 semester.
Jim Patterson contributed to this story.