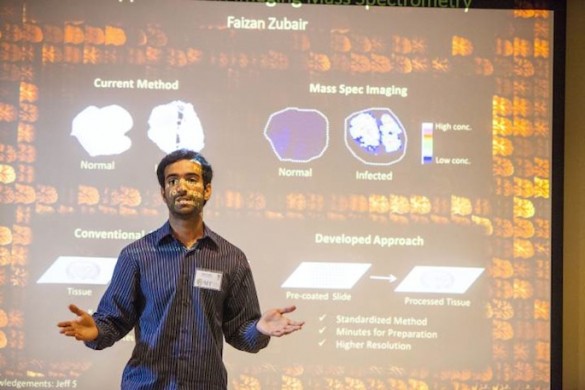 Brain symmetry, woman warriors and malaria were among the research topics featured by the winners of Vanderbilt's Graduate Student Council's second annual Three Minute Thesis competition April 4 at the Student Life Center.
The challenge was for students to communicate their work and its significance briefly and effectively to a nonacademic audience. More than 50 graduate students from across Vanderbilt competed to "crystallize years of research into a three-minute presentation," and a single PowerPoint slide, said Curtis Maughan, co-vice president of Academic Affairs for the Graduate Student Council.
The 3MT competition originated at the University of Queensland in 2008 and has since spread throughout Australia and overseas. The competition now takes place at more than 170 universities around the world.
The judges for Vanderbilt's competition came from a wide swath of the university community, including professors from multiple disciplines and administrators.
The contest provided a fascinating look at the research being done by students across the university. Topics ranged from the development of smart prosthetic limbs to an examination of how presidents choose the bureaucrats who run the government to a comparison of the educational trajectories of English-language learners in mainstream tracks versus those placed in ESL tracks.
The winners were:
First Place ($1,000): Benjamin Dean – Graduate School: Neuroscience
Neuroscientist Benjamin Dean is examining the roots of brain asymmetry—why one side of the brain controls different things than the other—by observing brain development in zebrafish. His research thus far has shown that these areas actually develop at different times before birth.
Second Place ($500): Caryn Tamber-Rosenau – Graduate School: Religion
Jewish Studies student Caryn Tamber-Rosenau argues that the women warriors of the Bible, Jael and Judith, should not be viewed as women acting like men because they used violence, but rather that they used violence as the ultimate expression of their femininity.
People's Choice ($250): Christopher Gulka – Chemistry
Chemistry student Christopher Gulka is developing a simple diagnostic tool that uses the same process that creates a coffee ring on your kitchen counter to identify the presence of malaria in a blood sample. This technique, which uses only a few chemicals and a glass slide, requires no electricity or running water, making it ideal for use in the developing world.