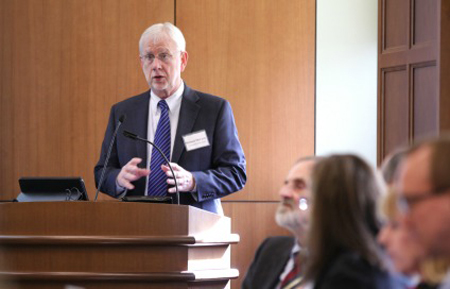 The Andrew W. Mellon Foundation has awarded a strategic planning grant of $149,000 to Vanderbilt University to support the Committee on Coherence at Scale for Higher Education, a multi-institutional effort to guide the collaborative development of national-scale digital projects.
Vanderbilt and the Council on Library and Information Resources (CLIR) co-sponsor the effort to play a national role in the future of digital access to scholarly works for students, faculty and the broader public.
Richard McCarty, Vanderbilt provost and vice chancellor for academic affairs, and Connie Vinita Dowell, dean of libraries, serve on the committee, which was formed in October 2012 to create an environment to discuss large-scale projects and new approaches to research and pedagogy with the goal of increased public access to scholarly information.
"[rquote]Today's digital environment has enormous potential to enhance scholarly productivity and enrich teaching," McCarty said.[/rquote] "These funds will support the committee's efforts to maximize that potential by developing the best possible blueprint to reach these important goals."
"This grant will enable universities and key associations representing higher education through the Committee on Coherence to create a concrete plan in support of one of the most important goals of our time, greater access to information for the public good," Dowell said. "We are grateful to the foundation for its support and to Charles Henry and CLIR staff for their leadership and partnership."
"A unified digital environment could open the world of information to a truly international audience that before had no hope for such access," said Henry, president of CLIR. "If you look at these projects in aggregate and pull them together, they represent almost every facet of knowledge organization within the context of higher education."
Projects being examined include the HathiTrust, the Digital Public Library of America, and the Digital Preservation Network, among others.
"We are now ready to turn toward concrete planning," Dowell said. "In collaboration with the Council on Library and Information Resources, we will continue to inform our strategic plan and create a five-year roadmap of achievable goals."
The committee includes university presidents, provosts, deans, university librarians and association leaders. One of the founding members, the University of Pittsburgh's School of Information Sciences, has been awarded a grant from the foundation to support 10 "iFellows" in tandem with the grant to Vanderbilt. The fellows at the University of Pittsburgh will supplement the work of the committee with independent dissertation research.
These grants and their work will allow the committee to analyze emerging national-scale digital projects and their potential to help transform higher education in terms of scholarly productivity, teaching, cost efficiency and sustainability.
"We look forward to hosting the next committee meeting on the Vanderbilt campus later this month," Dowell said.