Media Inquiries
Latest Stories
Owen Jones, who leads a national, multi-university and multidisciplinary research project into the intersection of neuroscience and criminal law, was named the winner of the Joe B. Wyatt Distinguished University Professor Award.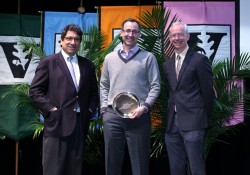 Jones, holder of the New York Alumni Chancellor's Chair at Vanderbilt, received a $2,500 award and engraved silver tray during Spring Faculty Assembly April 3 in Langford Auditorium. The Wyatt Award recognizes accomplishments that bridge multiple academic disciplines and honors the development of significant new knowledge from research or exemplary innovations in teaching.
Jones was one of five faculty members recognized with awards.
"Owen and his team have pioneered a new and thriving field in which brain activity is analyzed to gain insight into law-relevant mental states of defendants, witnesses, jurors and judges and their decision-making processes," said Chancellor Nicholas S. Zeppos. "His commitment to drawing from the disciplines of law, biology, economics, psychology and neuroscience to develop solutions truly exemplifies the spirit of the Joe B. Wyatt Award, and it is with great enthusiasm that I present it to him today."
Also honored at Spring Faculty Assembly were Teresa Goddu, associate professor of English; Jay Clayton, William R. Kenan Jr. Professor of English; Marc Hetherington, professor of political science; and Leigh Gilchrist, assistant professor of the practice of Human and Organizational Development.
Goddu won the Alexander Heard Distinguished Service Professor Award, which recognizes scholarship that increases and informs our understanding of the problems confronting contemporary society, and honors faculty members who seek and propose solutions to the issues that confront humanity. Goddu revitalized the American Studies program at Vanderbilt as director from 2006 to 2013, while also spearheading Vanderbilt's Sustainability Project.
"Thanks to her farsighted vision, American Studies is now viewed as an intellectual home that brings together a variety of disciplines and harnesses its deep and broad resources to enhance Vanderbilt's engagement with the social issues that bind us with our wider community," Zeppos said.
Goddu received $2,500 and an engraved silver tray.
Clayton, director of the Curb Center for Art, Enterprise and Public Policy, was awarded the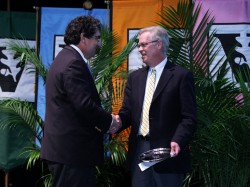 Harvie Branscomb Distinguished Professor Award for Creative Scholarship.
Zeppos noted Clayton's stellar teaching evaluations and his accomplishment of  "changing the discourse of the humanities through his brilliant research on science and literature."
Clayton's contributions didn't end with scholarship, Zeppos said.
"Through countless roles of service, he has improved how Vanderbilt shapes and supports its graduate programs; increased our understanding of the interconnections between technology and the humanities; and nurtured a vibrant interdisciplinary intellectual culture," Zeppos said.
The Branscomb Award comes with $2,500 and an engraved silver tray.
Hetherington was awarded the Ellen Gregg Ingalls Award for Excellence in Classroom Teaching, endowed by the Ingalls Foundation. Hetherington received $2,500 and an engraved pewter cup.
"Perhaps most revealing of Marc's confident teaching style is his willingness to incorporate other political scientists' views that counter his own to show different views about polarization and party politics," Zeppos said. "Students recognize this self-assured spirit and appreciate the freedom to develop their own opinions and viewpoints that his openness engenders."
The Madison Sarratt Prize for Excellence in Undergraduate Teaching went to Gilchrist.
"Leigh is a truly inspirational teacher who engages students and makes learning fun," Zeppos said. "She has 37 advisees, not because she is assigned this many, but because students are drawn to her and flock to her for advice.
"It is teachers like Leigh who make Vanderbilt such a highly sought after university."
Gilchrist received an engraved pewter cup and $2,500.
In addition to the awards, the program included an update on university affairs from Zeppos, welcoming remarks from Faculty Senate Chair Donald Brady and a presentation by Dan Sharfstein, "Thunder in the Mountains: A Story of America after Reconstruction."