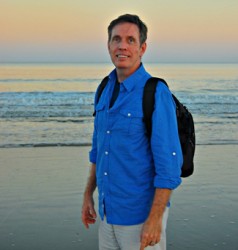 Michael Sims will read from his new book, The Adventures of Henry Thoreau: A Young Man's Unlikely Path to Walden Pond, April 11 at Vanderbilt University's Central Library.
Sims, whose books include The Story of Charlotte's Web and Adam's Navel: A Natural and Cultural History of the Human Form, will begin signing books at 6 p.m. in the library's Community Room. The reading and discussion will follow at 7 p.m. This event is free and open to the public.
"Sims is one of an increasingly rare breed in American letters," said Jay Clayton, William R. Kenan Jr. Professor of English and director of the Curb Center for Art, Enterprise and Public Policy. "He brings enormous curiosity and a passion for knowledge to all kinds of topics—biology and natural history, children's literature and horror tales—and he writes with clarity and gusto. I can't wait to hear what he has to say about Henry Thoreau."
The Adventures of Henry Thoreau focuses on 10 years in the life of the American essayist, poet and philosopher. The book opens in 1837 when Thoreau was a student at Harvard. After college, Thoreau became close friends with Ralph Waldo Emerson, who introduced him to Transcendentalism, an American literary, political, and philosophical movement that encouraged each person to find, in Emerson's words, "an original relation to the universe."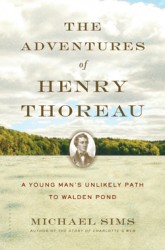 Emerson and Thoreau strived to find this connection in solitude within nature and in their writing. Sims' book concludes a decade later, as Thoreau walks away from his cabin on Walden Pond, where he had lived for only two years.
Sims, a Crossville, Tenn., native who now resides in Greensburg, Pa., is also the author of In the Womb: Animals, a companion to the National Geographic Channel series. He created and edits the Connoisseur's Collection Victorian anthology series for Bloomsbury, which includes Dracula's Guest, The Dead Witness and the forthcoming The Phantom Coach. He also has written essays and articles for numerous publications, including The New York Times Book Review and the Chronicle of Higher Education.
Sims previously worked in Vanderbilt Libraries' Special Collections and University Archives. With the support of Bloomsbury Publishing, this event is presented by the Vanderbilt Dean of Students Office in cooperation with the Curb Center, Jean and Alexander Heard Library and Barnes & Noble at Vanderbilt.
For more information, email F. Clark Williams, director of student activities or call 615-936-3728.